Make Half Your Plate Fruits & Veggies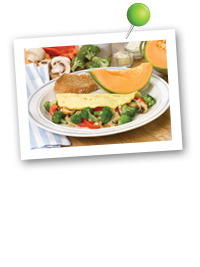 Compared to its traditional counterpart, this better-for-you omelet is lower in fat and cholesterol but not short on flavor. Folded in the middle is a vibrant mix of broccoli florets, red bell pepper, mushrooms, and melted reduced-fat cheese.
Recipe Cost for 4 People: $10.94 ($2.73/serving)*
Preparation Time: 30 minutes

3 cups Beneforté™ broccoli florets, cut into smaller pieces as needed
1 large red bell pepper, cut into strips
16 button mushrooms, sliced
Cooking spray
4 eggs, plus egg whites from 8 eggs (alternatively, use 2 cups egg substitute or 8 whole eggs)
¼ cup milk, fat-free
½ cup fat-free ricotta cheese
2 tbsp grated parmesan cheese
Salt and pepper to taste

Cut vegetables as directed. Whisk eggs and milk in a medium mixing bowl. Spray 10″ non-stick skillet with cooking spray; heat. Add broccoli, peppers, and mushrooms; sauté about 3-5 minutes, then remove from pan. To cook one omelet: Use cooking spray as needed. Add ¼ of the egg-milk mixture to hot skillet and let spread to cover bottom of pan. When egg begins to thicken on top, sprinkle with ¼ of the parmesan cheese. Dab ½ of the omelet with ricotta cheese; spread a portion of the vegetable mixture. Fold other ½ of omelet over the vegetables and let cook about 1 more minute. Slide onto individual serving plate. Season lightly with salt and pepper. Repeat to cook all omelets. Garnish omelet with remaining vegetable sauté mix.

Complete this Healthy Plate: Serve with ¼ slice Melorange melon and ½ slice whole wheat toast.
Serves: 4
Fruits & Veggies per Serving
2 Cups

Fruit/Veggie Color(s) [What's This?]

Nutrition Information per Serving:
Calories: 190
Total Fat: 7g
Saturated Fat: 2g
% of Calories from Fat: 33%
% Calories from Sat Fat: 9%
Protein: 22g
Carbohydrates: 12g
Cholesterol: 195mg
Dietary Fiber: 3g
Sodium: 350mg
Each serving provides: An excellent source of protein, vitamin A, vitamin C, riboflavin, folate, pantothenic acid, and iodine, and a good source of dietary fiber, vitamin D, niacin, B6, B12, potassium, calcium, iron, magnesium, zinc, and copper.
*Retail prices, Boulder, Colorado, August 2011