April 17, 2012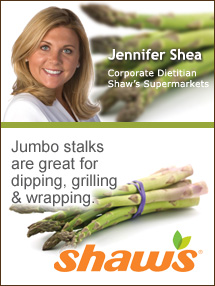 asparagus! Asparagus is a nutrient powerhouse. One 5-ounce serving contains only 20 calories and provides an excellent source of vitamin A (important for eye, skin and immune health) and Vitamin K, which supports bone health.

How to Select the Best Asparagus
What should you look for when buying it? Asparagus spears should be bright green, perfectly straight, firm and brittle. Choose stalks with tight, compact, pointed tips. Open, wilted or shriveled tips indicate the asparagus is likely past its prime. Asparagus can be found in green, white and occasionally purple varieties.

Should you purchase thick or thin stalks? This decision is up to you. You'll find an assortment of sizes from delicate, pencil-thin stalks to thicker spears. Here are some tips …
Thin stalks are great for quick cooking methods, like steaming microwaving or eating raw.
Medium-size spears are perfect for oven-roasting, grilling and for use in casseroles and stir-fries.
Jumbo stalks are great for dipping, grilling, wrapping, and soup-making.
How to Store Asparagus
Cut ½ inch from the bottom of the stalks, place in dish with about an inch of cool water. Refrigerate for up to three (3) days.

How to Prep Asparagus for Cooking
To trim woody bottoms hold the tip and the base in different hands and bend. The stalk will snap off in exactly the right spot. If you want to serve long stalks, remove the fibrous portion by peeling the bottom one-third of the stalk with a vegetable peeler.

5 Tasty Ways to Eat Asparagus
There are so many great ways! Here's just a few of my favorites …
Pizza Topping. Add slivers of asparagus to your homemade pizza prior to grilling it or putting it in the oven.
Grilled. Toss with extra virgin olive oil, salt and pepper and grill for 3-5 minutes until grill marks appear and asparagus is just tender. Top with shaved parmesan.
Roasted. Toss with sliced red peppers, garlic slivers, extra virgin olive oil, salt and pepper. Roast until tender.
Raw. Slice thin asparagus on a diagonal and add to your salads.
Jennifer Shea, MS, MPH, RD