Make Half Your Plate Fruits & Veggies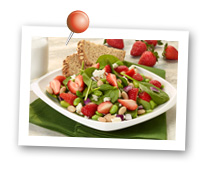 A flavorful, enticing mix of fresh strawberries, white beans and edamame in a light vinaigrette, nested on baby spinach and topped with crumbled feta cheese.
Recipe Cost for 4 People: $10.47 ($2.62/serving)*
Preparation Time: 30 minutes
Vinaigrette
1½ Tbsp extra virgin olive oil
2 Tbsp balsamic vinegar
¼ cup apple juice
¼ tsp salt
⅛ tsp pepper
Salad
1½ cup shelled edamame
1½ cup Naturipe strawberries, quartered
1 15-oz can low-sodium white beans, drained and rinsed
½ cup red onion, chopped
2 Tbsp chopped fresh basil
½ cup crumbled feta cheese
6 cups baby spinach
Cook edamame according to package directions, while preparing remaining ingredients. Rinse under cool water and drain. In a small bowl, whisk vinaigrette ingredients. In a medium bowl, toss all ingredients except spinach and vinaigrette. Serve on individual plates by nesting strawberry, white bean and edamame mix atop spinach. Drizzle with dressing.

Complete this Healthy Plate: Serve with an 8 oz glass of non-fat milk.
Serves: 4
Fruits & Veggies per Serving
2 Cups
Nutrition Info
Calories: 270
Total Fat: 10g
Saturated Fat: 2g
% of Calories from Fat: 33%
% Calories from Sat Fat: 7%
Protein: 14g
Carbohydrates: 30g
Cholesterol: 10mg
Dietary Fiber: 10g
Sodium: 350mg
Each serving provides: An excellent source of protein, fiber, vitamin A, vitamin C, thiamin, folate, calcium and magnesium, and a good source of riboflavin and phosphorus.
*Retail prices, Boulder, Colorado, and online, Spring 2015.