Make Half Your Plate Fruits & Veggies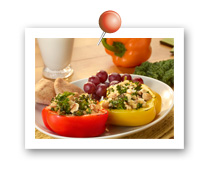 Red, orange and yellow greenhouse grown bell peppers stuffed with garbanzo beans, kale, walnuts and brown rice make a delicious Mediterranean-influenced vegetarian dish.
Recipe Cost for 4 People: $10.54 ($2.63/serving)*
Preparation Time: 1 hour
Instant brown rice to make 2 cups, cooked
4 medium Red Sun Greenhouse grown bell peppers, red, yellow and orange
2 cups chopped kale
1 15-oz can garbanzo beans (chick peas), unsalted, drained
½ cup chopped walnuts
¼ tsp salt
⅛ tsp pepper
Preheat oven to 375°F. Cook rice according to package directions. Slice bell peppers in half vertically and remove seeds. Reserve about half of garbanzo beans; mash remaining portion with a fork. Mix rice with kale, garbanzo beans (mashed and whole), nuts, salt and pepper. Fill peppers with mix; place in baking dish and cover. Bake about 30 minutes. Remove lid and bake 5 more minutes.

Complete this Healthy Plate: Serve with an 8 oz glass of non-fat milk, red/purple grapes, and pita wedges.
Serves: 4
Fruits & Veggies per Serving
¾ Cup
Nutrition Info
Calories: 330
Total Fat: 11g
Saturated Fat: 1g
% of Calories from Fat: 30%
% Calories from Sat Fat: 3%
Protein: 11g
Carbohydrates: 48g
Cholesterol: 0mg
Dietary Fiber: 9g
Sodium: 170mg
Each serving provides: An excellent source of protein, fiber, vitamin A, vitamin C, vitamin B6, folate, phosphorus, magnesium and copper, and a good source of thiamin, riboflavin, niacin, potassium, iron and zinc.
*Retail prices, Boulder, Colorado, and online, Spring 2015.