Make Half Your Plate Fruits & Veggies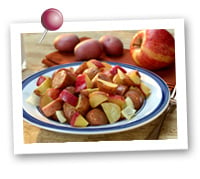 A scrumptious and easy one-dish baked meal that's perfect for chilly fall and winter evenings.
Recipe Cost for 4 People: $8.48 ($2.12/serving)*
Preparation Time: 45 minutes

3-4 red potatoes or your favorite potato variety (about 1 pound)
1 Tbsp canola oil
2 red apples (Fuji, Pink Lady, Honeycrisp, Gala, etc.)
1 yellow onion
4 chicken herb link sausages (12 ounces)
2 Tbsp cider vinegar
.5 tsp ground mustard
1 Tbsp honey

Preheat oven to 425° F. Cut potatoes into chunks, place in 2-quart baking dish. Drizzle with canola oil. Toss to coat. Roast potatoes in oven for about 20 minutes. While potatoes are roasting, cut apples and onion into chunks, and sausage into ½-inch slices. Remove baking dish from oven and reduce heat to 375°F. Add all remaining ingredients to baking dish and toss. Return baking dish to oven and roast an additional 30 minutes until apples and potatoes are tender.

Complete this Plate: Serve with glass of milk.

Serves: 4
Fruits & Veggies per Serving
1.75 Cups
Nutrition Information per Serving:
Calories: 330
Total Fat: 11g
Saturated Fat: 2g
% of Calories from Fat: 30%
% Calories from Sat Fat: 6%
Protein: 20g
Carbohydrates: 40g
Cholesterol: 65mg
Dietary Fiber: 5g
Sodium: 540mg
Each serving provides: An excellent source of protein and vitamin C, and a good source of fiber, vitamin B6, iron and copper.
*Retail prices, Boulder, Colorado, and online, Spring 2016.