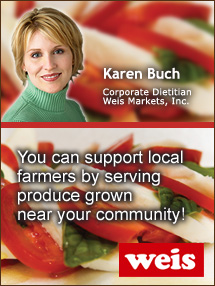 Locavore is a newly coined term describing people who are committed to eating locally-grown foods as often as possible. Here, in Pennsylvania, approximately 3,500 farming families work every day to grow fresh, nutritious vegetables and fruits for locavores to eat and enjoy!

Among Pennsylvania's local favorites are fresh sweet corn, cantaloupes and tomatoes. No matter where you live, you can support local farmers by serving a bounty of seasonal produce grown near your community!
CORN
Corn offers a good source of fiber, folate and vitamins B1 and C. Try making this fresh Corn Salsa to serve over grilled fish, chicken breast or steak!
SWEET CORN SALSA
4 cobs freshly steamed corn
(or substitute 2 cups frozen corn kernels)
1/3 cup chopped purple onion
1/4 cup chopped red bell pepper
3 tablespoons chopped fresh cilantro
2 tablespoons fresh lime juice
1 tablespoon finely chopped fresh jalapeno pepper
1/2 teaspoon salt
With a sharp knife, slice kernels from corn cobs and combine them with all other ingredients in a small bowl. Discard cobs. Cover and refrigerate mixture for 2 to 4 hours. Remove from refrigerator about 30 minutes before serving. Makes about 3 cups.
CANTALOUPE
One large wedge of cantaloupe offers an excellent source of vitamin A and beta carotene with a summer sweet taste—all for under 100 calories per serving. Try making this colorful cantaloupe gelatin dessert.
CANTALOUPE GELATIN WEDGES
1 cantaloupe
1 box gelatin, regular or sugar-free
Wash the outside of a cantaloupe melon under running water. Slice it in half and use a spoon to scoop and discard any seeds and strings. Prepare your favorite flavor of regular or sugar free gelatin according to package directions. Immediately pour hot liquid gelatin into the center of each melon half and refrigerate until set. (You will have more liquid gelatin than you need) Carefully slice each half evenly into 4 beautiful and refreshing gel-filled melon wedges. Serves 8.
TOMATOES
Tomatoes supply natural sources of the essential mineral potassium and the
antioxidant lycopene. Try using them in this classic Italian salad.
TOMATO, BASIL AND FRESH MOZZERELLA SALAD
4 medium red, ripe Plum Tomatoes, sliced into rounds
1 8 ounce ball of Fresh Mozzerella, sliced into rounds
1 tablespoon Extra Virgin Olive Oil
2 tablespoons Balsamic Vinegar
6 Fresh Basil Leaf Sprigs
Chopped green onion
1 small clove garlic, minced
Freshly ground black pepper
Sea salt
On a dinner plate, alternate tomato and cheese slices; arrange in a circle. Scatter the basil overtop. Season to taste with salt and pepper. Top with garlic and onions. Drizzle with oil and vinegar. Serves 2-4.