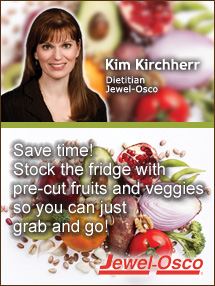 Happy New Year! Make 2010 the year of YOU. Get healthier by making better choices and enjoying some additional activity. Keep it easy, start small, and set realistic goals that are challenging yet reachable.

5 Easy Ideas to Get You Started
Fruits and Vegetables: Eating More is Important
Most Americans simply do not get enough fruits and vegetables. The good news is, it's easier – and more delicious – than most people think to fit these nutrient packed, vibrant choices on the menu! Fresh fruits and veggies are great options, but there are other ways to get servings of fruits and vegetables every day, too.

Fruits and veggies in dried, canned, frozen, 100% juice forms all count! Look for dried without added sugars, water or juice packed canned, and frozen fruits or vegetables without added sauces. Keep the freezer full of frozen fruits and vegetable choices for sides, soups, stews, and casseroles for busy nights. Stock the refrigerator with fresh favorites and pre-cut fruits and veggies to save prep time in the kitchen. Read labels on all food choices to know what each choice provides and to help monitor sodium or other "extras".
Eat Seafood Twice a Week for Health Benefits
Fish is easier to make at home than most people realize. Look for recipes to help to learn how to prepare new items. Find recipes that use familiar spices or other ingredients to help make a new fish dish familiar. Try grilling, baking, broiling, roasting, sautéing, stir-fry, or broasting to keep added fats in check.
'Fiber Up' and 'Veg Out' with Beans
Canned or dry legumes (black beans, chick peas, etc) are an economical food choice bursting with nutrition. Add to tacos, salads, casseroles, and soups, or mix into salsa and enjoy with cut veggies or baked chips.
Use the 'Right' Fat … in the Measured Amounts
Read labels on everything from cereal to pasta sauce to see what kind of fat and how much is in food choices. Use heart healthier oils like olive and canola oil when cooking, and measure the amount used to help monitor total calorie intake.
Add in Activity
Remember to check with the doctor before beginning any new exercise program or making dietary changes. The good news is, according to the Centers for Disease Control and Prevention (CDC), burning 150 calories can be as simple as washing floors or windows for 45 – 60 minutes. Ballroom dancing counts as "moderate activity" so the sky is the limit when it comes to adding in movement. Enjoying the activity chosen makes it easier to incorporate into the daily routine, so choose movement you enjoy, from dusting to gardening to taking a class. There is no "wrong" way to move.
Even cooking from scratch burns some calories! Here are some recipes to get you started …
Veggie Omelet
Prep Time: 10 minutes
Cook Time: 5 minutes
Amount: 2 servings

Ingredients

1 teaspoon wild harvest™ Organic Extra Virgin Olive Oil
2 tablespoons chopped onion
2 tablespoons chopped red bell pepper
3 mushrooms, sliced
1/2 cup wild harvest™ Organic Baby Spinach Leaves
1 cup wild harvest™ Organic 100% Egg Whites
1/2 cup shredded white Cheddar cheese

Directions

In small sauté pan, heat oil over medium heat. Add vegetables; salt and pepper to taste. Sauté until vegetables are tender (about 2-3 minutes).
Add in egg whites. Allow to set. Carefully flip omelet completely over. Allow to set completely. Top with cheese and fold in half.

Nutritional Information
Serving Size:1/2 of recipe

Per Serving:

Calories: 110

Total Fat: 7

Saturated Fat: 3

Cholesterol: 15

Sodium: 190

Carbohydrates: 4

Dietary Fiber: 1
Quick & Easy Pasta Sauce
Prep Time: 15 minutes
Cook Time: 20 minutes
Amount: about 5 cups

Ingredients

2 (28 ounce) cans wild harvest™ Organic Whole Peeled Tomatoes
2 tablespoons wild harvest™ Organic Extra Virgin Olive Oil
1 cup chopped yellow onion
1/2 cup chopped green bell pepper, optional
1 tablespoon chopped garlic
1 tablespoon Italian seasoning
1 teaspoon fine sea salt
1 tablespoon balsamic vinegar

Directions

Chop tomatoes, reserving juice; set aside.
In large saucepan, heat oil over medium-high heat. Add onion, peppers and garlic; sauté until onions are translucent (about 3-5 minutes).
Add tomatoes and juice, Italian seasoning and salt. Bring to a boil; reduce heat and simmer 15 minutes. Stir in vinegar; remove from heat.

Tip: Serve over your favorite Wild Harvest™ Organic Pasta or use for a great tasting lasagna.

Nutritional Information
Serving Size:1/10 of recipe

Per Serving:

Calories: 65

Total Fat: 3g

Saturated Fat: 0g

Cholesterol: 0mg

Sodium: 550mg

Carbohydrates: 8g

Dietary Fiber: 2g
Kim Kirchherr, MS, RD, LDN, CDE
Fruit & Vegetable Recipes
Video Center: Selection, Storage, and Preparation of Fruits & Vegetables