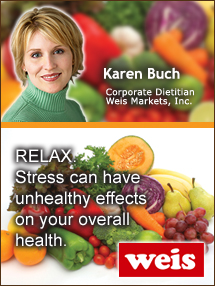 Set a New Year's resolution to Relax, Renew and Rejuvenate!
RELAX
Stress can have unhealthy effects on your overall health. Set aside time each day to listen to soft music, enjoy the aroma of scented candles and practice stress-relief techniques. Deep breathing combined with simple stretches help optimize flexibility and relieve the tensions of every day life.
RENEW
Renew your sense of well-being and defend against the signs of aging by properly hydrating, eating a diet rich in whole grains, fruits and vegetables, and taking time to pamper your skin.
BE GOOD TO YOUR SKIN
Skin is composed of more than 70 percent water. Drink plenty of pure water along with 100% fruit and vegetable juices rich in nutrients and antioxidants such as pomegranate, prune, blueberry, cherry, acai, Concord grape, orange, carrot and tomato juices.

Treat yourself to a weekly home spa experience! Try this recipe for a Pumpkin facial mask made with common food ingredients. Pumpkin puree, rich in vitamins A and C, contains natural exfoliating enzymes to help wash away dead skin cells and give you a healthy glow!

Pumpkin & Honey Facial Mask

1 teabag of green tea
6 oz. boiling water
2 tsp pineapple, diced
4 tbsp pumpkin puree, canned or fresh
1 tbsp Honey
2 tsp aloe vera gel
½ tsp canola oil
4 tsp cornmeal
1/8 tsp cinnamon

Steep one green tea bag in 6 ounces of near-boiling water. Add1 tsp prepared tea to a food processor along with pineapple. Puree until smooth. Transfer to a medium-sized mixing bowl. Add pumpkin, honey and aloe. Mix well. Stir in oil, cornmeal and cinnamon. Apply pumpkin mask to cheeks, forehead, chin and neck. Massage in circular motions gently buffing skin. Leave a thin layer of pumpkin mask on face and neck for 15 to 20 minutes. Sip on the remaining warm green tea during your facial treatment. Afterward, rinse face and neck with tepid water and pat dry with soft towel. Follow with facial moisturizer. Refrigerate remaining mask in an air-tight container. Makes 4 treatments.

Eating pumpkin regularly also helps nourish your skin from the inside out. Try making my favorite pumpkin custard recipe!

No-Crust Pumpkin Custard

3/4 cup granulated sugar
2 large eggs
1 (15-ounce) can 100% Pure Pumpkin Puree
1 (12 fl. oz.) can Evaporated Milk
1 teaspoon ground cinnamon
1/8 teaspoon ground nutmeg
1 teaspoon vanilla extract
1/2 teaspoon salt
Canola oil cooking spray

Pre-heat oven to 425° F. In a large bowl, add ingredients one at a time and blend with a hand blender until smooth. Spray a round 2-quart glass baking dish with cooking spray. Pour ingredients into baking dish. Sprinkle lightly with additional cinnamon. Bake for 15 minutes. Reduce heat to 350° F and bake another 40 to 50 minutes or until knife inserted near center comes out clean. Cool on wire rack. Serve warm or refrigerate. Makes 8 servings.
REJUVENATE
Positive thinking can rejuvenate your spirit and freshen your outlook on life. Focus on what you are grateful for, smile at others and look forward to a happy, healthy New Year!