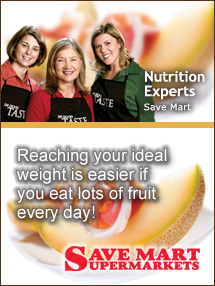 Go ahead … be a melon maniac this summer and find out how something so good for you can be so tasty too! Melons provide a good source of potassium and vitamin C, and like most fruits, they're also fat- and cholesterol free, high in water content, and relatively low in calories.

Origin
Many melons originated in the Middle East and their popularity gradually spread across Europe. Ancient Egyptians and Romans mostly consumed cantaloupes and muskmelons.
Insalata di Melone

1 cantaloupe, peeled and cut into chunks
½ teaspoon fresh ground black pepper
¼ cup white wine OR white balsamic vinegar
¼ cup olive oil
Curly endive
Snipped chives to garnish

Gently toss melon chunks with pepper, vinegar and oil. Present on a bed of endive and garnish with chives.
Christopher Columbus transported melon seeds to the United States and Spanish explorers eventually cultivated this member of the gourd family (that's right … squash and cucumbers are "cousins"). So try an American twist on your favorite melon and think speed feed: a recipe with three (3) ingredients that includes nearly all the food groups!
Melon Meat Wrap

3 slices thin sliced smoked ham or prosciutto
2 tablespoons whipped light cream cheese
3 slices cantaloupe OR honeydew melon, peeled

Spread ham slices evenly with cream cheese. Place melon slice crosswise on each ham slice; fold ham around melon; secure with toothpicks.
Weight Management
Maybe it sounds too good to be true but reaching your ideal weight is easier if you eat lots of fruit every day! And when the temperature climbs to three digits, sometimes "drinking your meal" fits the bill: tasty, refreshing, and fat-free! What else could you ask for?
Cantaloupe Smoothie

½ ripe cantaloupe, peeled and cut into chunks
1 cup EACH fat-free milk and fat-free yogurt
1 cup crushed ice
2 tablespoons sugar (optional to taste)

Combine all ingredients in blender; process until smooth. Serves 4.
Nutrition Experts
Fruit & Vegetable Recipes
Video Center: Selection, Storage, and Preparation of Fruits & Vegetables