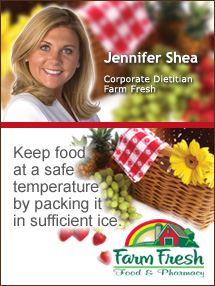 Picnics are one of the greatest things about the summer season. Whether it's a sunrise breakfast in the mountains, lunchtime picnic on the beach, or a sunset picnic by the lake, we get to enjoy the warm summer air, good company and good food. Since summer produce is at its peak, take advantage of the abundance and pack some colorful picnics. Packing a colorful picnic basket ensures a nutrient-packed and health-promoting meal.

Here are a few perfect picnic ideas that pack fun and flavor along with a nutrient punch …
Sunrise Breakfast

Beachside Lunch

Picnic in the Park

Romantic Sunset by the Lake
Food Safety

Remember to keep food at a safe temperature by packing it in a cooler with sufficient ice. Practice proper food safety techniques to prevent the growth of foodborne bacteria.

Never let your picnic food remain in the danger zone – between 40° F and 140° F – for more than 2 hours, or 1 hour if outdoor temperatures are above 90° F; this is when bacteria in food can multiply rapidly, and lead to foodborne illness. More About Food Safety

Hope these ideas were helpful to get you started on adding more colors to your perfect picnic!
Jennifer Shea MS, MPH, RD
Fruit & Vegetable Recipes
Video Center: Selection, Storage, and Preparation of Fruits & Vegetables.