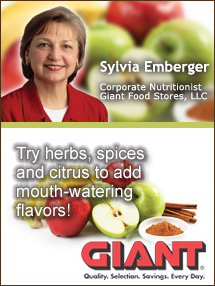 Need to add some excitement to plain vegetables and fruits? Butter, cream sauces and salt will only disguise the wonderful flavor of vegetables, and added sugar is no match for the natural sweetness of fruits. Instead, try herbs, spices and citrus to add mouth-watering flavors with the bonus of extra antioxidants! Best of all, you won't add any extra calories, fat, sodium or sugar.

You can purchase fresh herbs at your supermarket year-round or grow your own herbs in warmer weather. Dried herbs will impart a slightly different flavor. Ground spices are convenient but, for freshest flavor, look for whole spices that you can grate as needed.

These pairings will enhance the flavor of fruits and veggies while preserving their healthy status …
Fruits

Vegetables

Carrots taste even sweeter with a touch of tarragon.
Add chopped dill and chives to sliced cucumbers.
Sprinkle chopped parsley or mint over grilled summer squash.
Grow nasturtiums and toss some petals into your salad for color and a mild radish-like bite.
Tomatoes with fresh basil, fresh garlic and balsamic vinegar are a classic. For a twist on spaghetti or pizza sauce, add minced garlic, oregano, freshly ground pepper and crushed fennel seeds to pureed tomatoes.
Toss potato slices with rosemary, garlic powder and ground pepper and roast in the oven.
Grate orange zest over mashed sweet potatoes.
Toss steamed Brussels sprouts with Dijon mustard and a pinch of thyme.
Caraway seeds are a traditional favorite with cabbage.
Add Herbes de Provence to green beans.
Try other no-salt-added herb blends on cooked vegetables.
With flavors such as these, who can resist eating fruits and vegetables? Experiment with other combinations!

Recipe

Roasted Asparagus
Makes 4, 4 ounce servings
Prep time: 5 minutes
Cook time: 10 minutes

1 lb fresh asparagus spears
1 teaspoon olive oil
Freshly ground black pepper
1 teaspoon crushed garlic
1/2 teaspoon grated lemon zest

Preheat oven to 400 degrees. Wash asparagus spears and snap off bottoms. Place spears on a baking sheet lined with foil. Top with oil, pepper and garlic and toss spears together to distribute seasonings evenly. Roast for 8-10 minutes until just tender and beginning to brown slightly. Sprinkle with grated lemon zest before serving.

Nutrition information per serving: 35 calories, 1 g fat, 0 g saturated fat, 0 mg cholesterol, 0 mg sodium, 5 g carbohydrate, 2 g dietary fiber, 3 g protein.
Sylvia Emberger, RD, LDN
Fruit & Vegetable Recipes
Video Center: Selection, Storage, and Preparation of Fruits & Vegetables