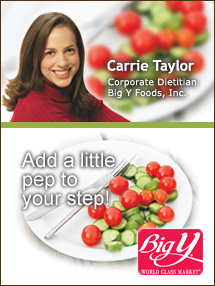 The Dietary Guidelines for Americans 2010 recommends filling half your plate with colorful fruits and vegetables at every meal, which is perfect for trading up to more nutritious meals. This recommendation also meshes with this year's National Nutrition Month® theme of "Eat Right with Color."

When building your colorful plate, incorporate fruits and veggies that make up all the colors of the rainbow to get a variety of different nutrients. Also shop for all forms of fruits and veggies: fresh, frozen, dried and canned (without added salt and sugar).

Key Nutrients in Fruits & Veggies
Why are fruits and vegetables SO important? They're packed with nutrients like fiber, antioxidants, potassium, folate and vitamins A and C, and they contain very few calories. Simply put, eating fruits and vegetables will do wonders for how you feel, and will add a little pep to your step! Here's how …
Fiber … The skin, flesh and seeds of fruits and vegetables are great sources of both soluble and insoluble fiber. Insoluble fiber promotes a healthy digestive system. Soluble fiber helps reduce cholesterol and control blood sugar levels.
Antioxidants help neutralize negative compounds in your body. They help counteract the impact these "bad guys" have on your health. Dark colors like red and purple signify foods that are often high in antioxidants.
Potassium is important for bone health and may help regulate blood pressure by counteracting the effects of sodium. Lima beans have more potassium than a very well-known source—bananas.
Folate helps tissues grow and cells function. Get your folate from dark leafy greens like spinach and romaine lettuce.
Vitamin A promotes healthy eyes and skin. Look for bright yellow and orange colors for produce high in vitamin A. Add mangos to your yogurt and crunch carrots with your peanut butter.
Make Servings Easier … Just Fill Half Your Plate
Most adults need 1 ½ to 2 ½ cups of fruit and 2 ½ to 3 cups of vegetables for a total of 4-5 ½ cups every day. But let's make that easier. Simply divide your plate in half, dedicating one side to colorful produce.

Not Using a Plate? No Worries
Since not every meal is eaten off a plate, here are examples of what MyPyramid counts as a ½-cup serving (based on volume) …
½ cup raw or cooked vegetables
1 tennis ball-sized fruit
4 ounces 100% fruit or vegetable juice
½ cup canned beans or cooked dried beans
¼ cup dried fruit
1 cup fresh, leafy greens
Use fruits and vegetables to add color, texture, variety and nutrition to half your plate at every meal, every day. And remember to shop for the colors of the rainbow to get the most nutritious choices possible!
Carrie Taylor, RD, LDN
Lead Registered Dietitian for the Living Well Eating Smart Program
Fruit & Vegetable Recipes
Video Center: Selection, Storage, and Preparation of Fruits & Vegetables.