Grilled Vegetables 101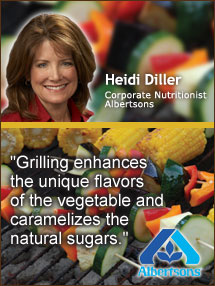 Summertime grilling isn't just for slabs of meat. There's room on the grill for veggies too, but where to start? Grilling enhances the unique flavors of the vegetable and caramelizes the natural sugars. I often find that many guests that don't care for eggplant, zucchini or red pepper—love them off the grill. Even a marginally skilled backyard chef can do wonders with asparagus, mushrooms, corn, and onions. Peppers are a natural grilling choice too, whether you choose bell peppers or the hot variety.

Grilling vegetables is easy. Just start with a nice, clean grill and wash the vegetables well. You can cook the veggies right on the grill, slide them on a kabob style stick or use a special grilling pan for smaller slices. Marinades often work well and most vegetables cook better and are less likely to stick if brushed with high-quality oil. For added flavor, sprinkle grilled vegetables with fresh herbs. Cooking times will vary, just keep a close eye on them.
Marinated Barbequed Vegetables
Serves 5
Ingredients:
1 small eggplant, cut into 3/4 inch thick slices
2 small red bell peppers, seeded and cut into wide strips
3 zucchinis, sliced
6 fresh mushrooms, stems removed
1/4 cup olive oil
1/4 cup lemon juice
1/4 cup coarsely chopped fresh basil
2 cloves garlic, peeled and minced
Directions:
Place eggplant, red bell peppers, zucchinis and fresh mushrooms in a medium bowl.
In a medium bowl, whisk together olive oil, lemon juice, basil and garlic. Pour the mixture over the vegetables, cover and marinate in the refrigerator at least 1 hour. The longer it marinates the better the flavor.
Preheat an outdoor grill for high heat.
Place vegetables directly on the grill or on skewers. Cook on the prepared grill 2 to 3 minutes per side, brushing frequently with the marinade, or to desired doneness.