Make Half Your Plate Fruits & Veggies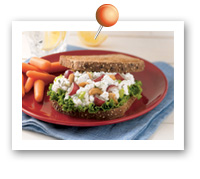 The creamy and tangy goodness of low-fat cottage cheese is the perfect balance to sweet grapes and cashews. Enjoy this salad as a sandwich filling or on a bed of lettuce.
Recipe Cost for 4 People: $6.27 ($1.57/serving)*
Preparation Time: 15 minutes

1 cup Daisy Brand low-fat cottage cheese
1½ cups red grapes, quartered
1 stalk celery, chopped
¾ cup dry roasted cashews, unsalted, coarsely chopped
Ground black pepper to taste
2 tbsp fresh parsley, chopped
8 lettuce leaves
8 slices whole grain bread

In a medium bowl, mix cottage cheese, grapes, celery, cashews, parsley, and ground black pepper. Toast bread and build sandwiches. Spread ¼ salad mix on 4 of the bread slices. Add two lettuce leaves to each sandwich; top with 2nd bread slice.

Complete this Healthy Plate: Serve with a side of raw baby carrots (about ½ cup) and 1 cup of sparkling water w/ lemon wedge.
Serves: 4
Fruits & Veggies per Serving
1 Cup
Nutrition Information per Serving:
Calories: 380
Total Fat: 16g
Saturated Fat: 3.5g
% of Calories from Fat: 38%
% Calories from Sat Fat: 8%
Protein: 19g
Carbohydrates: 45g
Cholesterol: 5mg
Dietary Fiber: 6g
Sodium: 430mg
MyPlate Contributions
Vegetables
Fruit
Grain
Protein
Dairy
0.75 cup
0.25 cup
2 oz
2 oz
0.25 cup
Each serving provides: An excellent source of protein, fiber, vitamin A, folate, iron, phosphorus, magnesium, and copper, and a good source of vitamin C, thiamin, niacin, riboflavin, vitamin B6, potassium, calcium, and zinc.
*Retail prices, Boulder, Colorado, and online, September 2012