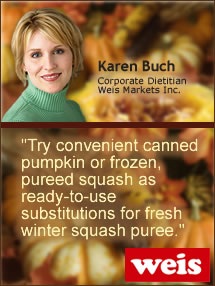 As the leaves begin to change to
autumn
colors and cool crisp air replaces the sultry summer heat, it's the perfect time to cook with winter squash! Winter squash are really harvested in late summer or early fall. They come in many varieties, shapes and sizes and they're packed with
nutrition
. In fact, one cup of cooked winter squash contains just 80 calories, yet it's high in vitamins
A
and
C
and is a good source of
potassium
and vitamins B
6
, K and
folate
. Use squash to make savory soups, elegant side dishes or nutritious sweet treats.
Selecting & Storing Winter Squash
Winter squash like Acorn, Butternut, Turban, Hubbard, Delicata or Pumpkin should be heavy for their size and very hard. Press firmly to test the firmness of the rind.
Look for squash with a portion of the stem still attached. A missing stem may be a
sign of mold or bacterial growth inside.
Store squash in a dry, cool (50º F to 60º F) place for several months. Once sliced,
wrap dry pieces in plastic wrap and refrigerate for up to 5 days. Freeze cooked
squash for up to one year.
Baking Winter Squash
Baking winter squash brings out its natural sweetness. Begin by slicing the squash in half and scooping out the seeds and strings. Place the squash, cut-side down, on a foil-lined baking sheet. Pour 1/4 inch of water into the pan, cover with foil and bake in the oven at 400 º F for 40 minutes or until tender. Scoop the flesh from the rind to use in a variety of squash recipes.
Try stuffing acorn or butternut squash halves with cardamom, cinnamon, allspice, nutmeg, ginger, honey, brown sugar, maple syrup,
fruit juice
,
nuts
,
raisins
,
apples
or
onions
. Bake, upright, in a
400 º F oven until tender. Enjoy!
No Time to Prepare Fresh Winter Squash?
Try convenient
canned
pumpkin or frozen, pureed squash as ready-to-use substitutions for fresh winter squash puree.
Karen Buch RD, LDN
Corporate Dietitian, Weis Markets Inc.
Weis HealthyBites