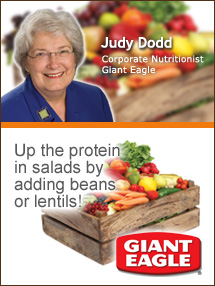 Make
half your plate fruits and vegetables
is a message that's easy to remember. Doing this not only meets nutrition guidelines but also captures appealing images. Color, variety and of course flavor come to mind with thoughts of spring-fresh asparagus, raw veggies with dip, fruit kebobs or sliced
mango
and
papaya
! Adding interest to meals and snacks by capitalizing on the colors, flavors and textures of
fruits
and
veggies
is a no-brainer! So … here are some interesting starters. (And by all means, add your own!)
7 Ways to Capitalize on the Colors, Textures and Appeal of Fruits & Veggies
Oven-Roasted or Grilled Veggies. Oven-roasted/grilled cauliflower or Brussels sprouts fit both casual and more formal meals. They're easy, health-smart, and great hot or cold on a salad.
Grilled Fruit. On the fruit side, try grilled peaches, pineapple or bananas with a touch of cinnamon.
Easy Way to Add Flavor! Grated parmesan or Romano cheese adds another flavor to most vegetables with a reasonable dose of calories, fat, and sodium.
Creamy Goodness! Make it easy to enjoy creamed spinach by using Neufchatel cheese or Greek yogurt stirred into drained cooked spinach and topped with a touch of grated fresh nutmeg.
Add Protein. Up the protein in salads by adding beans or lentils — going beyond the salad bar favorite, chick peas!
Fruit Kebabs. Involve the younger set in making their own fruit kebobs (using straws or beverage stirrers). Melons, banana, pineapple, strawberries, chunks of mango and papaya … the list can be seasonal fresh or drained canned.
Smoothies. Smoothies are another "in" way to get both fruits and veggies into a time-crunched audience who may otherwise avoid the half your plate message! And this is a time to think color with foods like blueberries, avocado and spinach. No-fat Greek yogurt, soy, almond or rice milk adds a protein bonus.
Judy Dodd, MS, RD, LDN
Community Relations Corporate Nutritionist
Giant Eagle
Fruit & Vegetable Recipes
Video Center: Selection, Storage, and Preparation of Fruits & Vegetables.