June 25, 2013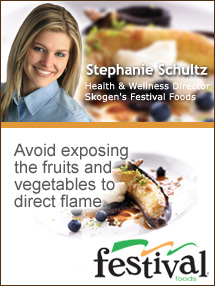 Summer is a popular time of the year to fire up the grill. The favorites for many veteran grillers are hamburgers, brats, hot dogs, steak or chicken. However, many of us often do not think about grilling our favorite fruits and vegetables. Grilling brings out the natural sweetness in fruits and vegetables and preserves flavor. Also, grilled fruits and vegetables can turn a bland cookout into a flavorful fiesta, while still providing their good vitamins, minerals, antioxidants and phytochemicals.

Since June is National Fresh Fruit and Vegetable Month, I thought it would be fitting to highlight some tips that will make adding fruits and vegetables to your grilling repertoire a breeze.

9 Tips for Grilling Fresh Fruits & Veggies
1. Ripeness. Select fresh fruits and vegetables that are ripe, but not overripe. Overripe fruits and vegetables tend to not hold up well when grilled.

2. How to Prep. To avoid fruits and vegetables falling through the grates, cut them into moderate sized pieces. Additionally, ensure the pieces are equal in size to promote even cooking.

3. What about the Skins? Leave the skins on to help the fruits and vegetables maintain their shape, while also adding fiber to your meal.

4. Kabobs. Fun and relatively easy to add to your grilling menu, kebabs are a great way to experiment with different fruit and vegetable combinations.

5. Herbs & Spices. Spice up your grilled vegetables by experimenting with different herbs and spices.

Cumin pairs well with tomatoes, corn, green beans and zucchini.

6. Foil Your Grates. Before grilling, place a layer of tinfoil over the grates. Spray the tinfoil with cooking spray to prevent the fruits and vegetables from sticking.

7. How Close to the Flame? Avoid exposing the fruits and vegetables to direct flame. Otherwise, grilling may increase nutrient loss and alter flavor.

8. Healthy Dessert. If you're looking for a healthy dessert to cap off your cookout, try sprinkling cinnamon or lemon juice onto fruits while grilling. Having fruit for dessert will help you save on calories, while satisfying your sweet tooth.

9. Cool Before Eating. Fruits and vegetables have a high water content, which makes them become extremely hot when grilled. Allow grilled fruits and vegetables to cool slightly before consuming.
Recipe
Grilled Bananas
Prep Time: <5 minutes
Cook Time: 10 minutes
Servings: Varies

Ingredients

1 banana per family member
Assorted favorite toppings

Directions

Place unpeeled bananas on the grill over medium heat. Grill 3-5 minutes on each side until bananas blacken and slightly soften. Remove them from the grill, and let them rest for 3-5 minutes.
Slice the banana down the center, and serve as a "banana dessert boat" filled with your favorite toppings. For a lighter dessert, top with fresh fruit and a few chopped nuts. To make it a bit more decadent, add chocolate chips, a drizzle of caramel, or frozen yogurt.
Written by
Lee Hrykas
UW-Green Bay Dietetic Intern

Reviewed by
Stephanie Schultz, RD, CD
Health and Wellness Director
Festival Foods
Fruit & Vegetable Recipes
Video Center: Selection, Storage, and Preparation of Fruits & Vegetables.