June 26, 2012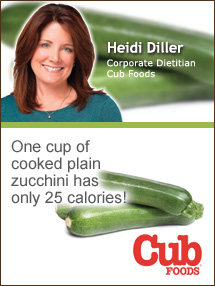 I love my summer vegetable garden. Tomatoes, eggplant, peppers and summer squash grow best during long, warm summer days. If you missed the spring planting time, it's not too late to get started with your vegetable garden plans. Many vegetables have short growing times and can be planted and harvested within a few short weeks. Veggies like zucchini grow quickly without much care, and one plant can yield several dozen squash. In fact, you may find a baseball bat-sized zucchini hidden under the plant leaves in no time.
Even if you don't have your own vegetable garden, you can enjoy fresh zucchini squash from your grocery store. It tastes best when it's picked small to medium sized—no more than 7 inches long. Choose squash that is also firm and shiny. If you see baby summer squash that is just one to two inches long, try those too! They are really sweet and tender.
One cup of cooked plain zucchini is good for your waist line. It contains only 25 calories, has over 2 grams of fiber and contains potassium and vitamin C.
Recipe
Here's a quick way I serve my freshly picked zucchini. It's simple and delicious.
Heidi's Zucchini Parmesan
Serves 4

Ingredients

1 tablespoon olive oil
4 medium zucchini, sliced ¼-inch thick
Pinch of salt and pepper
½ cup parmesan cheese, finely grated

Directions
Heat oil in a non-stick pan over medium heat. Add sliced zucchini and sauté, stirring every 2 minutes until tender and most slices are golden brown, about 20 minutes. Reduce heat to low, sprinkle with salt and pepper. Sprinkle with cheese. Cover for 2 minutes until cheese is melted.

Nutrition Information per serving: 82 calories, 5 grams fat, 8 grams carbohydrate, 5 grams protein, 3 grams fiber, 204 mg sodium
Heidi Diller, RD