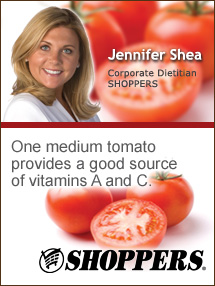 The end of the hazy, lazy days of summer is fast approaching and the impending hustle and bustle of the school year is right at our heels. But, you've still got a few weeks before you need to kiss the sights, smells, sounds and tastes of summer goodbye, so take a deep breath and enjoy all the amazing tastes that the end of summer has to offer – including fresh
summertime produce
.
The
tomato
is late summers' most cherished and delicious produce pick, not to mention a nutritious and versatile choice as well. One medium tomato contains only 25 calories and provides a good source of both
vitamin C
and
vitamin A
, nutrients important for skin health and immune health. Aside from enjoying them whole with a sprinkle of sea salt and freshly ground pepper or sliced atop burgers, what else can we do with these beloved red beauties?
Here are some ideas to showcase tomatoes …
Breakfast. Spread whole-grain toast or a bagel thin with light cream cheese. Top with a thick slice of tomato, a basil leaf, salt and pepper.
Colorful Side Dish. Combine cooked and cooled quinoa, halved cherry tomatoes, diced cucumber, sliced scallions, slivered basil and reduced-fat feta cheese. Drizzle with extra virgin olive oil and rice vinegar then sprinkle with salt and pepper. Toss, chill and serve.
Baked. Oil a baking dish with extra virgin olive oil. Layer sliced tomatoes with seasoned whole-wheat breadcrumbs and shredded mozzarella or cheddar cheese. Bake at 350° F until dish is heated through and bubbly, 20-25 minutes. Top with slivered fresh basil leaves.
Recipe
Zucchini and Summer Squash Ribbons
Time: 20 minutes
Serves: 4 as a side dish

Ingredients

2 small zucchini
1 small summer squash
1 tablespoon extra virgin olive oil
1 cup halved grape tomatoes
2 tablespoons balsamic vinaigrette
½ cup shaved parmesan, plus more for garnish
½ cup slivered basil, plus more for garnish
Salt
Pepper

Directions
Using a mandolin or sharp knife, thinly slice the zucchini and summer squash into ribbons. Heat olive oil in a sauté pan over medium-high heat. Add the zucchini and summer squash ribbons. Sauté for 5 minutes, just until slightly wilted and warm. Remove from heat. Halve the tomatoes and add to ribbons. Add balsamic vinaigrette. Toss. Add basil and parmesan. Toss. Garnish with additional basil and cheese. Serve.
Enjoy these last moments and tastes of summer!
Jennifer Shea
Corporate Dietitian
Shoppers
Insider's Viewpoint Archive
Healthy Meal Planning & Shopping for Fruits & Vegetables
Fruit & Vegetable Recipes
What Fruits & Vegetables Are In Season?
Video Center: Selection, Storage, and Preparation of Fruits & Vegetables.