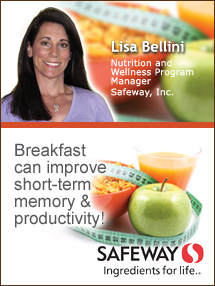 You've heard it before, but it is worth repeating: breakfast eaters are better able to keep their weight in check. Studies show that breakfast
skippers
make weight control more difficult because they tend to eat more at the next meal.
So what can you do if you don't have time to sit down to a traditional breakfast meal?
Here are some quick fixes for breakfast …
If you start in the morning, you are more likely to get enough servings of fruits and vegetables each day. Combine fruits and vegetables with whole grains and a low-fat protein for a well-balanced breakfast. Besides weight maintenance, eating or drinking breakfast can improve short-term memory and productivity.

Recipe
Green Smoothie

Ingredients

1 cup almond milk
2 tbsp. ground flaxseed
1 ripe banana
1 sheet seaweed
1 cup packed spinach
¼ cup plain Greek yogurt
½ cup cooked quinoa

Put all ingredients in the blender and mix until smooth. Makes three 8-oz. servings.

Nutrition Information: 156 calories, 6.9 g protein, 3 g fat, 26.7 g carbohydrates, 3 mg cholesterol, 53 mg sodium, 3.2 g fiber, 7% vitamin A, 6% vitamin C, 16% calcium, 6% iron.
Lisa Bellini, M.S., R.D.
Nutrition and Wellness Program Manager
Safeway, Inc.
Fruit & Vegetable Recipes
Video Center: Selection, Storage, and Preparation of Fruits & Vegetables.