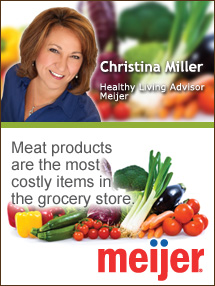 Going meatless just one day each week benefits your budget, your family's health and the health of the planet, according to the "Meatless Monday" campaign. Here are just a few of the perks of being animal protein free ….
Your Bottom Line. Meat products are the most costly items in the grocery store. Going meatless just one day per week reduces meat consumption about 15% and grocery bills about 5% per week. Moderate food costs for a family of four add up to $836.20 per month, according to the USDA Center for Nutrition Policy and Promotion. Saving 5% equates to $42 per month or $502 per year!
Health Benefits. Going meatless just one day each week can help reduce your family's intake of saturated fat by 15%. Replacing meat one day each week with beans, lentils, nuts, seeds, vegetables and fruit offers many health benefits …

Reducing risk for cardiovascular disease by promoting healthy cholesterol levels
Less risk for cancer, especially colon cancer
Lower risk for the development of type 2 diabetes
Contributes to a healthy body weight and reduces risk for obesity
Increases life span
Improves the quality of the diet by increasing fiber, vitamin and mineral intake

Earth Friendly. Decreasing the amount of animal protein you consume helps to reduce the production of greenhouse gases. Water and fossil fuels are also conserved when eating meatless one day each week.
Recipe
Italian Vegetable Fettuccine

Serves 6

1 tbsp. olive oil
1 cup sliced celery
1 large onion, cut into wedges
1 tbsp. chopped fresh basil
2 cups fresh broccoli florets
1 cup thinly sliced red bell pepper strips
1 (12-oz.) can fat-free evaporated milk
1 cup grated Parmesan cheese, divided
2 tbsp. cornstarch
3/4 cup chicken broth
1/2 cup frozen peas
12 oz. Fettuccine, cooked (cover to keep warm)

Directions

In a large skillet heat oil over medium-high heat. Add celery, onion and basil. Cook 5 minutes, stirring occasionally.
Add broccoli and bell pepper. Cook and stir 2 to 3 minutes more or until vegetables are crisp-tender.
Stir in milk, 3 tablespoons of the Parmesan, and pepper to taste.
In a small bowl stir together cornstarch and broth. Add to skillet; cook and stir until thickened and bubbly; cook and stir 2 minutes more.
Stir in peas. Serve over fettuccine and sprinkle with remaining Parmesan.

Nutrition information per serving: Calories 384, Total Fat 8g, Cholesterol 16mg, Sodium 460mg, Carbohydrates 57g, Fiber 3g, Protein 19g
Christina Miller, MS RD
Fruit & Vegetable Recipes
Video Center: Selection, Storage, and Preparation of Fruits & Vegetables.