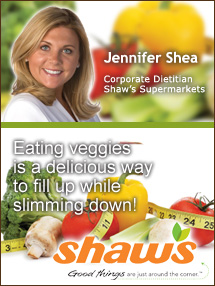 What's your New Year's resolution? Chances are, if you're like the majority of Americans, your goal is to lose weight in 2011. For most of us, the exercise plan and healthy diet starts on January 1 and ends sometime before February. Why? Because we set restrictions on ourselves that we cannot maintain, so we give up. This year, forget the diet and obsessing about what you can't eat and start focusing on the tasty things you can. Try it! Eating more vegetables and substituting veggies in place of higher calorie foods is a delicious and satisfying way to fill up while slimming down.

Here are some great ideas to get you started …
Start your meal with a mixed vegetable salad tossed with olive oil vinaigrette. Vinegar (balsamic, red, rice) helps to ward off hunger and the monounsaturated fat in the olive oil helps your body absorb the phytonutrients and vitamins in the salad. Or savor a vegetable broth-based soup. The soup broth and fiber in the veggies satisfy with few calories. See the hearty and delicious soup recipe below.
Fill half your plate with vegetables. Increase the amount of veggies that you're eating while decreasing your starch and protein portions. Bonus: You'll be consuming the same amount of food, but fewer calories!
Love sandwiches? Pile whole-wheat bread high with lettuce, tomato and cucumber and then add a slice of reduced-fat cheese and a few turkey slices. These veggies add bulk and filling fiber with few calories. Or use lettuce leaves instead of bread slices and fill with shredded teriyaki chicken and sliced water chestnuts. Be creative and the possibilities are endless.
Recipe
Sunshine Mushroom Soup
Prep Time: 20 minutes
Cook Time: 50 minutes
Amount: 8 servings

Ingredients

2 tablespoons Shaw's® butter
1 cup sliced Farm Stand® carrots
1 cup chopped Farm Stand® onions
8 ounces sliced mushrooms
1 teaspoon minced garlic
6 cups Shaw's® chicken broth
1 (29 ounce) can Shaw's® stewed tomatoes
16 ounce yellow split peas, rinsed and drained
1 Shaw's® bay leaf
1/4 teaspoon dried thyme leaves
A pinch of cayenne pepper

Directions

In large stock pot or Dutch oven, melt butter over medium-high heat.
Sauté carrots, onions, mushrooms and garlic until onions are softened.
Add in chicken broth, tomatoes, peas, bay leaf, thyme and cayenne pepper. Salt and pepper to taste.
Bring to a boil; reduce heat and simmer, covered, 45 minutes or until peas are tender.

Nutritional Information
Serving Size: 1/8 of recipe
Per Serving:

Calories: 275

Total Fat: 3g

Saturated Fat: 2g

Cholesterol: 10mg

Sodium: 770mg

Carbohydrates: 45g

Dietary Fiber: 17g
Jennifer Shea MS, MPH, RD
Shaw's Corporate Dietitian
Shaw's – ACME – Farm Fresh – Shoppers
Fruit & Vegetable Recipes
Video Center: Selection, Storage, and Preparation of Fruits & Vegetables