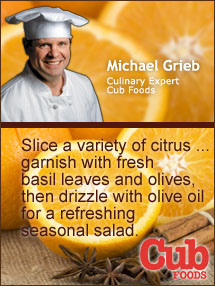 Holidays Mean More Fun with Food!
The holidays are time to celebrate with family and friends and the dining room table is always the center of these celebrations. We enjoy the family traditional family recipes as well as incorporating new dishes that reflect our own tastes and personality.
The options to incorporate delicious varieties of fruits and veggies to your Holiday table are endless:
And the best part, enjoy a little of everything in moderation: No guilt involved and maximum enjoyment by all! Happy Holidays to you and your families.
Cub Foods Culinary Expert