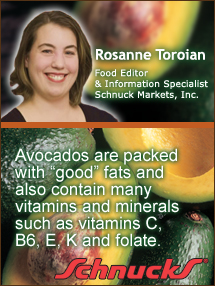 Silky, rich, and buttery, avocados impress and delight. Packed with "good" monounsaturated fats and cholesterol-free, they also contain many vitamins and minerals such as vitamins C, B6, E, K and folate. California harvests about 80% of the nation's crop year round; the Hass avocado is the leading variety sold in the U.S. Florida avocados, typically available from July through February, are much larger than the Hass with a smooth, lighter-green glossy skin that doesn't change color when ripe. Less dense with a higher water content, they are lower in fat than the Hass, but just as flavorful and delicious.
Originating in South Central America, the avocado fruit is enjoyed in most of the world as a savory ingredient, though Brazil serves avocados for dessert, sweetened with sugar and added to milkshakes and ice cream.
Avocados only begin to ripen once they are picked. To hasten ripening, place avocados in a brown paper bag. Add an apple or tomato to accelerate the process even further. Avocados should yield to gentle pressure; the Hass variety will turn dark purple to black when ripe.
Follow these instructions to remove the flesh from an avocado: Cut avocado lengthwise in half around the seed. Twist halves in opposite directions to separate. Slip spoon between seed and fruit and work the seed out. With a large spoon, scoop fruit away from peel and transfer to bowl or cutting board.
Everyone has their favorite guacamole recipe. Some like to add fresh lime juice (which preserves color), red onion, prepared salsa, cumin, cayenne and extra virgin olive oil. I like to keep mine simple with a modest amount of tomato so the avocado stands out. Here's my recipe:
Authentic Guacamole
1 jalapeño chile, seeded and finely chopped
â…" cup loosely packed fresh cilantro leaves, chopped
¼ cup chopped white or sweet onion
½ teaspoon salt
2 ripe Hass avocados, peeled and seeded
1 medium tomato, seeded and coarsely chopped
Plain tortilla chips
Add jalapeño, cilantro, onion and salt to mortar, if you have one, or food processor bowl fitted with knife blade. (The mini food processor would be perfect for this task.) With pestle, grind mixture until it becomes juicy and thick (onion will still be slightly chunky). Or, if using food processor, pulse to achieve same results, frequently scraping down side of bowl with rubber spatula.
In medium serving bowl, mash onion mixture with avocado and tomato until guacamole is blended with some avocado chunks remaining. Serve with chips. Makes about 1¾ cups.
Food Editor & Information Spet