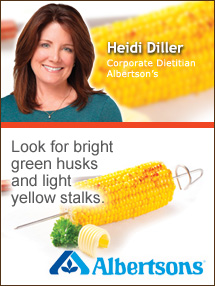 Here's the great thing about summer—okay, one of the many great things. It's prime time for good-for-you fresh summer produce. You know … watermelon, peaches, apricots, and fresh sweet corn. Can you imagine a summer barbecue without fresh corn-on-the-cob? Neither can I. Corn is sweet, crunchy goodness in a perfect package to throw on the grill. So fire up the barbeque and ditch that big pot of water that steams up your kitchen.
3 Steps to Grilled Corn-on-the-Cob
Select It
Select young, tender corn. The sugars in corn convert to starch shortly after being picked so it should be eaten soon after harvest. Young corn is also loaded with natural sugars that caramelize on the grill giving your corn an extra sweet flavor. Just make sure you look for bright green husks and light yellow stalks. Peel back the husk enough to expose a few rows of kernels. The kernels should be plump and translucent.
Prep It
You can remove the corn husks and wrap the cobs in foil or keep the husks in place. Both ways work well, but using foil will just steam the corn. To get that yummy smoke flavor, pull back the husks (still keeping them attached with the stalk), remove as much silk as you can, then push the husks back around the corn to protect it.
Grill It
Now you are ready to grill. You want grill temperature to be at a medium-high heat. Corn-on-the-cob will take about 10 minutes to grill, turning every 2 minutes. The husks may burn, but the kernels of corn shouldn't. Watch for the kernels to turn a golden yellow color.
Healthy Tip: One medium corn-on-the-cob with a pat of butter contains 150 calories, 3.4 g fat, 32 g carbohydrate, and 4.5 g protein. It's also a good source for vitamin C and has some fiber. How about skipping the butter and giving your corn cob a squeeze of lime and/or a dash of Pico de Gallo seasoning instead? You'll save 40 or more calories and give the corn a Tex-Mex flavor.
Heidi Diller, RD