Make Half Your Plate Fruits & Veggies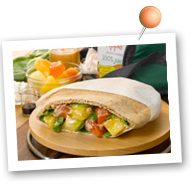 Bored with the same old sandwich at lunch? Liven up packed lunches with this Thai-influenced pita pocket: a surprising blend of fruits, spinach and peanut sauce tucked in a very portable pita pocket.
Recipe Cost for 4 People: $8.02 ($2.01/serving)*
Preparation Time: 15 minutes

1 15-oz can Del Monte Tropical Fruit Salad in 100% Juice
4 pita pocket breads
4 cups fresh spinach, torn
¼ cup fresh cilantro (optional)

Spread

3 Tbsp reserved juice from Del Monte Tropical Fruit Salad
½ cup natural peanut butter, crunchy/chunky
3 Tbsp fat-free cream cheese
1 Tbsp low-sodium soy sauce

In a colander over a bowl, drain fruit salad well; reserve 3 Tbsp juice. In a small bowl, whisk together reserved juice, peanut butter, cream cheese and soy sauce. Place drained fruit, spinach and cilantro (if desired) in bowl, mix gently. Add sauce and toss. Slice a small portion off each pita and tuck sliver inside at the bottom. Fill each pita pocket with the fruit-spinach mixture. Wrap individually in plastic wrap and refrigerate. Will keep well overnight.

Time-saving idea: Purchase pre-opened pita pockets.
Serves: 4
Fruits & Veggies per Serving
1.5 Cups

Fruit/Veggie Color(s) What's This?

Nutrition Information per Serving:
Calories: 370
Total Fat: 17g
Saturated Fat: 2g
% of Calories from Fat: 41%
% Calories from Sat Fat: 5%
Protein: 13g
Carbohydrates: 42g
Cholesterol: 0g
Dietary Fiber: 6g
Sodium: 550mg
Each serving provides: An excellent source of protein, fiber, vitamin A and vitamin C, and a good source of iron and zinc.
*Retail prices, Boulder, Colorado, July 2011