Make Half Your Plate Fruits & Veggies

MyPlate Challenge: Show us how you're following the MyPlate guidelines and make one of these plates (or another healthy plate), take a pic, and pin it to our Pinterest board!

 Make this Filling Soup Lunch Plate


 Mediterranean Potato Soup Get Recipe


 Whole Grain Bread


  Plate Cost for 4 People


 $8.88 ($2.22/serving)*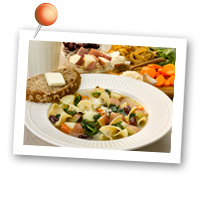 Fruits & Veggies per Serving


 1.75 Cups

Fruit/Veggie Color(s)




What's This?

 Featured Recipe


Mediterranean Potato Soup


 Recipe Cost for 4 People: $8.37 ($2.09/serving)*
Nutrition Info
Calories: 550
Total Fat: 10g
Saturated Fat: 4.5g
% of Calories from Fat: 16%
% Calories from Sat Fat: 7%
Protein: 31g
Carbohydrates: 86g
Cholesterol: 20mg
Dietary Fiber: 17g
Sodium: 670mg
Each Serving Provides: An excellent source of protein, fiber, vitamin A, vitamin C, vitamin D, thiamin, riboflavin, niacin, B6, B12, folate, calcium, iron, potassium, phosphorus, magnesium and copper, and a good source of pantothenic acid.

 Learn More About Potatoes


 See Nutrition Info, Selection & Storage Tips

 Learn More About Kidney Beans


 See Nutrition Info, Selection & Storage Tips
Grocery List for this Meal
Fresh Produce
 
3 medium red potatoes
Fresh garlic (need one clove)
1 medium onion
3 medium carrots
Spinach (need 2 cups); or 1 cup frozen spinach
Canned
 
1 15-oz. can kidney beans
1 32-oz carton low-sodium chicken broth (or may reconstitute instant bouillon)
Dairy
 
Parmesan cheese (1/4 cup grated or 1-2 ounces block)
Fat-free milk, as accompaniment
Butter or margarine, as desired, for accompanying bread
Baking/Cooking
 
Dried Italian herb blend
Dry Goods
 
Whole wheat noodles (need 1 cup or 2 ounces)
Bread
 
Rustic whole grain bread of your choice, as accompaniment
 
 
 
Back to Top
*Retail prices, Boulder, Colorado, July 2011
**Winner chosen weekly.