March 27, 2013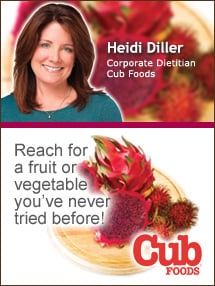 Celebrate National Nutrition Month® by eating something new! This year's theme — Eat Right, Your Way, Every Day — teaches that eating is not a one-size-fits-all proposition. Our country is a nation of immigrants where food, shopping, meals and dining can be a fun, nutritious and multi-ethnic experience.

Did you know that many of the ethnic food products and exotic produce items found at most grocery stores today offer a pathway to health? In this country, we have access to a growing number of fruits and vegetables grown around the world. Papaya, mangos and kiwi are commonplace today but in many grocery stores it's now easy to find more exotic items like rambutan from Thailand, dragon fruit from Central America and cactus (nopales) from Mexico. A trip to the grocery store can feel like a trip around the world! Make National Nutrition Month® a success by reaching for a fruit or vegetable you've never tried before. It's an adventure that your kids will love.

Have you ever eaten cactus? Cactus pads, also known as nopales, are a popular vegetable in Mexico and Latin America. They have a mild, green bean-bell pepper flavor and when sliced, they have the consistency of okra. Use as a salsa in tacos, a garnish on tostadas, or mix with eggs. You can buy the whole cactus pad and remove the needles by scrapping with a knife, or you can buy "ready to go" cactus prepped and diced in a bag.

Recipe

Nopales Salad
Serves 4-6

Ingredients

3 cups diced nopales (cactus pads), cooked until tender and rinsed under cold water
½ cup finely chopped green onion
½ cup diced radishes
¼ cup finely chopped cilantro leaves
2 tablespoons olive oil
juice of 1 fresh lime
¼ teaspoon crumbled, dried oregano leaves
salt and pepper to taste
1 serrano chile, finely chopped (optional)

Directions
Place the prepared nopales in a salad bowl with the other vegetables and the cilantro. Whisk together the olive oil, lemon juice, oregano, salt and pepper, and pour over all. Toss to blend well.
Heidi Diller, RD
Corporate Dietitian
Cub Foods
Fruit & Vegetable Recipes
Video Center: Selection, Storage, and Preparation of Fruits & Vegetables.