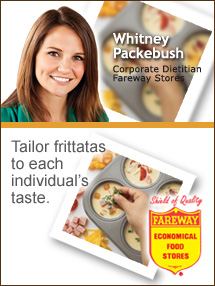 Spring has sprung – and with it comes the Easter Holiday. That means eggs, eggs, and more eggs. Yes, eggs are rich in protein, vitamins and minerals, but you may also be looking for ways to perk up your tired, worn out
scrambled
eggs. Combine that with the fact that we should all be eating more vegetables, and I think we have a solution.
Mini egg frittatas are a great solution for tired scrambled eggs …
You can make 6 frittatas at one time.
Your children can get involved and make their own, thus encouraging them to try new foods.
You can tailor each frittata to each individual's taste.
Mini frittatas require hardly any work.
Recipe
Mini Frittatas
Makes 6 frittatas
Total time: 30 minutes

Ingredients

Directions
HEAT oven to 350?F and COAT a 6-cup muffin tin with nonstick cooking spray. WHISK together eggs, milk and salt in a medium bowl, then evenly distribute the egg mixture among the muffin cups. ADD about 2 Tbsp of veggies to each cup and sprinkle with cheese, if desired. BAKE the frittatas until they are puffy and the edges are golden brown, about 20 to 25 minutes. (If necessary, run a butter knife around the edge of each one to loosen before removing from the pan).

Approx. nutrition information per serving: 56 calories; 3.6 g total fat; 1.1 g saturated fat; 124 mg cholesterol; 232 mg sodium; 1 g carbohydrate; 0 g fiber; 4.5 g protein.
Whitney Packebush
Photo credit: www.FamilyFun.com