Make Half Your Plate Fruits & Veggies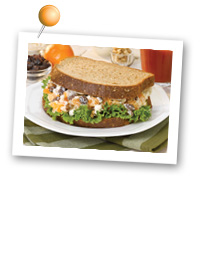 Clementine oranges and raisins are the perfect balance for goat cheese in this quick lunch fix that's sure to be a break from the routine sandwich. This recipe can also be served as a salad on a bed of greens.
Recipe Cost for 4 People: $11.71 ($2.93/serving)*
Preparation Time: 10 minutes

4 Dandy Clementine oranges
1 cup Sun-Maid raisins
4 oz (1 cup) crumbled goat cheese (or feta cheese)
3 tbsp chopped walnuts
2 tbsp fat-free yogurt, plain
2 tbsp fat-reduced mayonnaise
8 lettuce leaves (Bibb, Romaine, red, or green leaf)
8 slices whole grain bread

Peel Clementine oranges and split each in half. With a sharp serrated knife, chop the orange halves into small pieces. In a medium bowl, mix raisins, cheese, walnuts, yogurt, and mayonnaise. Add chopped Clementine oranges and mix gently. Lay out bread slices. Spread ¼ salad mix on 4 of the bread slices. Add two lettuce leaves to each sandwich; top with 2nd bread slice.

Complete this Healthy Plate: Serve with an 8 oz glass of low-sodium tomato juice.
Serves: 4
Fruits & Veggies per Serving
1.75 Cups

Fruit/Veggie Color(s) [What's This?]

Nutrition Information per Serving:
Calories: 440
Total Fat: 15g
Saturated Fat: 5g
% of Calories from Fat: 31%
% Calories from Sat Fat: 10%
Protein: 16g
Carbohydrates: 67g
Cholesterol: 15mg
Dietary Fiber: 8g
Sodium: 400mg
Each serving provides: An excellent source of protein, dietary fiber, vitamin A, vitamin C, thiamin, B6, folate, potassium, phosphorus, magnesium, and copper, and a good source of riboflavin, niacin, calcium, iron, and zinc.
*Retail prices, Boulder, Colorado, August 2011