Make Half Your Plate Fruits & Veggies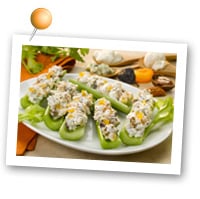 Crunchy sweet celery is a versatile snack food, just right for this flavorful spread. Filled with dried fruit and nuts, this enticing and quick low-fat spread can be made ahead or on the spot.
Recipe Cost for 4 People: $4.20 ($1.05/serving)*
Preparation Time: 15 minutes

2 Tbsp crumbled blue cheese
3 Tbsp fat-free cream cheese
½ cup fat-free yogurt, plain
4 dried apricots
4 dried figs or dates
¼ cup pecans
8 stalks celery

Food processor method: Place all ingredients in food processor. Pulse just until fruit and nuts are chopped.

Alternate Method Without Food Processor: Chop dried fruit and pecans. With a fork or hand mixer, mix blue cheese, cream cheese and yogurt until smooth. Stir in chopped dried fruit and pecans. Refrigerate spread until ready for use. Slice celery stalks into 3-4 inch sticks. Fill celery pieces with spread.
Serves: 4 (makes about 1 ½ cup of spread)
Fruits & Veggies per Serving
1 Cup

Fruit/Veggie Color(s) What's This?

Nutrition Information per Serving:
Calories: 140
Total Fat: 6g
Saturated Fat: 1.5g
% of Calories from Fat: 39%
% Calories from Sat Fat: 10%
Protein: 6g
Carbohydrates: 16g
Cholesterol: 5mg
Dietary Fiber: 3g
Sodium: 220mg
Each serving provides: A good source of protein, fiber, vitamin A, calcium, potassium and phosphorus.
*Retail prices, Boulder, Colorado, July 2011