Make Half Your Plate Fruits & Veggies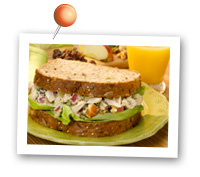 Liven up your lunch-time sandwich with a refreshing mix of tuna, apples, raisins, and walnuts.
Recipe Cost for 4 People: $6.66 ($1.67/serving)*
Preparation Time: 15 minutes
Tuna Salad

1 Fuji or Pink Lady Washington apple
1 12-oz can chunk light tuna, drained
2 tbsp low-fat plain yogurt
2 tbsp fat-reduced mayonnaise
1/2 cup raisins or chopped figs
1/4 cup chopped walnuts
1/8 tsp ground black pepper
2 tbsp chopped fresh parsley, optional
1/2 tsp curry powder, optional

Sandwich

8 leaves lettuce (Bibb, Romaine, green or red leaf)
8 slices whole grain bread

Cut apple in quarters; remove core and chop. In a medium size bowl, mix all salad ingredients, except tuna. Gently fold in tuna. Make sandwiches, using lettuce and whole grain bread (toasted, if desired), and fill with tuna apple salad.

Complete this Healthy Plate: Serve with 8 oz orange juice.
Serves: 4
Fruits & Veggies per Serving
0.75 Cups
Nutrition Information per Serving:
Calories: 380
Total Fat: 10g
Saturated Fat: 1.5g
% of Calories from Fat: 24%
% Calories from Sat Fat: 4%
Protein: 27g
Carbohydrates: 48g
Cholesterol: 25mg
Dietary Fiber: 7g
Sodium: 550mg
Each serving provides: An excellent source of protein, fiber, vitamin D, niacin, vitamin B6, vitamin B12, phosphorus, magnesium, and copper, and a good source of vitamin A, potassium, calcium, iron, thiamin, riboflavin, folate, and zinc.
*Retail prices, Boulder, Colorado, September 2011