Make Half Your Plate Fruits & Veggies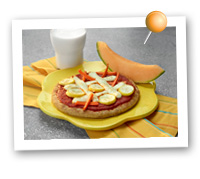 Let kids build mini pizzas. Top whole-grain pita with sauce and criss-cross of low-fat mozzarella cheese and vegetables for a quick, fun dinner.
Recipe Cost for 4 People: $6.16 ($1.54/serving)*
Preparation Time: 20 minutes, plus 10 minutes bake time
1 medium carrot
½ red bell pepper
1 medium summer squash
4 whole wheat pita rounds (about 6" diameter)
¾ cup reduced-sodium pasta sauce
4 sticks reduced-fat string mozzarella string cheese
Place rack in middle of oven and pre-heat oven to 400°F. For Xs, cut carrot and bell pepper into small sticks about 2 inches long. For Os, cut summer squash into 12 slices. For grid, pull apart each cheese stick to make 4 strips. Place pita rounds on baking sheet and spread pasta sauce on each. Let kids build tic tac toe pizzas with cheese and vegetables. Bake about 10 minutes or until cheese is bubbling.

Complete this Healthy Plate: Serve with glass of milk and a melon slice.
Serves: 4
Fruits & Veggies per Serving
1 Cup
Nutrition Info
Calories: 260
Total Fat: 4.5g
Saturated Fat: 2g
% of Calories from Fat: 16%
% Calories from Sat Fat: 7%
Protein: 14g
Carbohydrates: 43g
Cholesterol: 10mg
Dietary Fiber: 7g
Sodium: 550mg
Each serving provides: An excellent source of protein, fiber, vitamin A and vitamin C, and a good source of thiamin, riboflavin, vitamin B6, folate, potassium, calcium, iron, phosphorus, magnesium and copper.
*Retail prices, Boulder, Colorado, and online, Summer 2016.