Make Half Your Plate Fruits & Veggies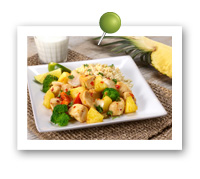 A deliciously sweet and savory dish featuring chicken, fresh pineapple and red bell peppers.
Recipe Cost for 4 People: $12.53 ($3.13/serving)*
Preparation Time: 30-60 minutes (depending on rice)
4 cups cooked brown rice (regular or instant)
2 Tbsp peanut or canola oil, divided
1 lb boneless, skinless chicken breast, cut into 1" cubes
2 cloves garlic, minced
1 Del Monte® fresh red bell pepper, cut into chunks
1 medium Del Monte® onion, cut into chunks
2 cups cut broccoli florets and stems
2 cups fresh Del Monte Gold® Extra Sweet pineapple chunks
1 fresh lime, divided
1 Tbsp Thai fish sauce
2 Tbsp Thai chili sauce
¼ cup chopped cilantro
Cook rice according to package directions. Heat 1 Tbsp oil in a large skillet. Add cubed chicken, stir fry 4-5 minutes until chicken is done. Remove from skillet. Heat remaining oil. Add garlic and cook one minute. Add bell pepper, onion and broccoli; cook 5 minutes. Add pineapple; cook an additional 3-4
minutes. Return chicken to skillet and stir in juice from ½ lime, fish sauce, chili sauce and cilantro. Cook 1 more minute. Serve over brown rice with lime wedges.

Complete this Healthy Plate: Serve with an 8 oz glass of non-fat milk.
Serves: 4
Fruits & Veggies per Serving
1.5 Cups
Nutrition Info
Calories: 510
Total Fat: 11g
Saturated Fat: 2.5g
% of Calories from Fat: 19%
% Calories from Sat Fat: 4%
Protein: 31g
Carbohydrates: 71g
Cholesterol: 65mg
Dietary Fiber: 8g
Sodium: 450mg
Each serving provides: An excellent source of protein, fiber, vitamin A, vitamin C, thiamin, niacin, vitamin B6, folate, pantothenic acid, potassium, phosphorus and magnesium, and a good source of vitamin E, riboflavin, iron, zinc and copper.
*Retail prices, Boulder, Colorado, and online, Summer and Fall 2015.