Make Half Your Plate Fruits & Veggies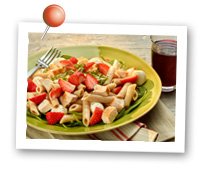 This refreshingly simple one-dish meal strawberries, spinach, mozzarella balls and chicken drizzled with a light vinaigrette made with white grape juice.
Recipe Cost for 4 People: $12.41 ($3.10/serving)*
Preparation Time: 45 minutes

Vinaigrette

¼ cup white grape juice
2 Tbsp white balsamic vinegar
2 Tbsp olive oil
2 tsp sugar
¼ tsp salt
1/8 tsp black pepper

8 oz whole wheat penne pasta
Cooking spray
8 oz boneless, skinless chicken breast
1 pound fresh strawberries
6 oz fresh spinach
4 oz fresh mozzarella, cherry-size balls
¼ cup fresh basil

Whisk together vinaigrette ingredients; set aside. Cook pasta according to package directions; drain and let cool. While pasta is cooking, coat large skillet with cooking spray and cook chicken breast over medium heat. Turn chicken several times, until done (about 15-20 minutes). When cool enough to handle, cut chicken into bite-size chunks. Slice strawberries and cut basil into small strips (chiffonade). In a large bowl, toss pasta, chicken, mozzarella, strawberries and dressing.

To serve: Arrange spinach on four plates. Divide pasta mix evenly on top of spinach. Sprinkle with chopped basil.

Complete this Plate: Serve with Concord grape juice.

Serves: 4
Fruits & Veggies per Serving
1.5 Cups
Nutrition Information per Serving:
Calories: 480
Total Fat: 17g
Saturated Fat: 5g
% of Calories from Fat: 32%
% Calories from Sat Fat: 9%
Protein: 25g
Carbohydrates: 58g
Cholesterol: 55mg
Dietary Fiber: 8g
Sodium: 380mg
Each serving provides: An excellent source of protein, fiber, vitamin A, vitamin C, niacin, folate, and iron, and a good source of vitamin B6, potassium, phosphorus and magnesium.
*Retail prices, Boulder, Colorado, and online, Winter 2016