Make Half Your Plate Fruits & Veggies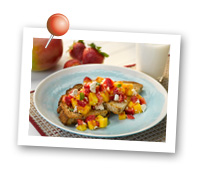 Diced strawberries, mango and fat-free feta cheese provide the perfect balance of sweet, savory and tangy for these quick and colorful brunch or lunch toast points.
Recipe Cost for 4 People: $9.23 ($2.31/serving)*
Preparation Time: 20 minutes

1 ripe mango, divided
2 cups strawberries, divided
¼ cup fresh basil, plus 2 T for topping
½ cup fat-free feta cheese crumbles
2 T balsamic vinegar
2 T olive oil
4 slices whole wheat bread

Peel and pit mango. Dice ¾ of mango and ¾ of strawberries; place in large bowl with feta cheese. Put remaining fruit, ¼ cup basil, vinegar and oil in a blender and blend. Pour blended vinaigrette over fruit-feta mix and toss gently. Chop remaining basil leaves. Toast bread slices and cut each slice diagonally. Top toast points with dressed fruit feta mix and chopped basil.

How to Cut a Mango

Complete this Plate: Serve with an 8 oz glass of non-fat milk.

Serves: 4
Fruits & Veggies per Serving
0.75 Cups
Nutrition Information per Serving:
Calories: 240
Total Fat: 8g
Saturated Fat: 1.5g
% of Calories from Fat: 30%
% Calories from Sat Fat: 6%
Protein: 9g
Carbohydrates: 33g
Cholesterol: 5mg
Dietary Fiber: 5g
Sodium: 390mg
Each serving provides: An excellent source of fiber, vitamin A and vitamin C, and a good source of protein, vitamin E, riboflavin, folate, calcium, phosphorus, magnesium, and copper.
*Retail prices, Boulder, Colorado, and online, February 2014