Make Half Your Plate Fruits & Veggies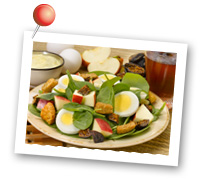 Enjoy a simply delicious spinach salad with hard-boiled eggs, apples, and dried figs.
Recipe Cost for 4 People: $7.97 ($1.99/serving)*
Preparation Time: 45 minutes

4 large eggs
2 Piñata (or Gala) apples
8 cups fresh spinach
1 cup dried figs (about 16 figs or one 7-oz pkg)
1 cup whole grain croutons
½ cup light honey-mustard or poppy-seed dressing

To hard-boil eggs: Place eggs in saucepan large enough to hold them in single layer. Add cold water to cover eggs by 1 inch. Heat over high heat just to boiling. Remove from heat and cover. Let eggs stand in hot water about 12 minutes. Drain and fill pan with cold water; let sit 10-15 minutes. Peel and slice. (This can be done ahead. If making ahead, refrigerate cooked unpeeled eggs.)

Prepare other ingredients while eggs are cooking and cooling. Wash, slice, and core apples. Cut apples and dried figs into bite-size chunks. Wash and drain spinach.

To plate, divide ingredients evenly among 4 plates, top spinach with apples, eggs, dried figs, and croutons. Drizzle with dressing.

Complete this Healthy Plate: Serve with 8 oz glass of 100% grape juice and ½ cup vanilla or lemon low-fat yogurt.
Serves: 4
Fruits & Veggies per Serving
2¼ Cups
Nutrition Information per Serving:
Calories: 360
Total Fat: 11g
Saturated Fat: 2g
% of Calories from Fat: 28%
% Calories from Sat Fat: 5%
Protein: 9g
Carbohydrates: 59g
Cholesterol: 185mg
Dietary Fiber: 10g
Sodium: 560mg
Each serving provides: An excellent source of fiber, vitamin A, and iron, and a good source of protein, vitamin C, vitamin D, niacin, potassium, calcium, phosphorus, and iodine.
*Retail prices, Boulder, Colorado, and online, Fall 2011