Make Half Your Plate Fruits & Veggies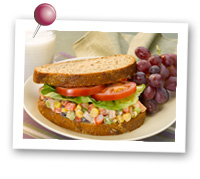 Grapes are a natural balance to this sweet and savory shrimp salad. Enjoy as a sandwich or over lettuce.
Recipe Cost for 4 People: $8.36 ($2.09/serving)*
Preparation Time: 15 minutes

½ lb frozen cooked cocktail shrimp (thawed, peeled, and deveined)
1 8 oz can yellow corn kernels, no salt added, drained
1 cup black beans, no salt added, drained and rinsed
1 stalk celery, diced
2 tbsp chopped onion
2 tbsp reduced-fat mayonnaise
½ tsp salt-free Caribbean citrus seasoning (like Mrs. Dash)
8 slices whole grain sandwich bread
2 tomatoes, thinly sliced
4 leaves Bibb lettuce or other leaf lettuce

Chop shrimp coarsely. Mix together shrimp salad ingredients. Divide salad evenly among four slices of bread; spread to edges of bread. Top with tomato slices, lettuce, and second bread slice.

Complete this Healthy Plate: Serve with 8 oz (1 cup) non-fat milk and a red grape cluster (about ¾ cup).
Serves: 4
Fruits & Veggies per Serving
0.75 Cup
Nutrition Information per Serving:
Calories: 330
Total Fat: 6g
Saturated Fat: 1g
% of Calories from Fat: 16%
% Calories from Sat Fat: 3%
Protein: 27g
Carbohydrates: 43g
Cholesterol: 115mg
Dietary Fiber: 8g
Sodium: 450mg
Each serving provides: An excellent source of fiber, protein, iron, and magnesium, and a good source of vitamin A, vitamin C, thiamin, riboflavin, folate, potassium, calcium, phosphorus, and zinc.
*Retail prices, Boulder, Colorado, and online Fall 2011