Make Half Your Plate Fruits & Veggies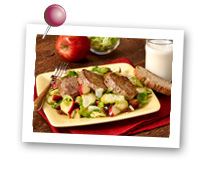 This simple one-pan sauté meal featuring chunky apples, shredded Brussels sprouts and lean tenderloin pork chops is brimming with fall flavors.
Recipe Cost for 4 People: $9.36 ($2.34/serving)*
Preparation Time: 40 minutes

1 lb Brussels sprouts, trimmed (or 12 oz package fresh shredded Brussels sprouts)
2 red apples
1 medium onion
Pork tenderloin (about 1 lb), sliced 1" thick
⅛ tsp black pepper
½ tsp salt, divided
2 Tbsp vegetable oil, divided
¼ cup raisins
2 Tbsp cider vinegar
2 tsp honey

Shred or slice Brussels sprouts thinly. Coarsely chop onion. Cut apples into chunks. Season pork with pepper and ¼ tsp salt. Heat 1 Tbsp oil in large sauté pan. Add Brussels sprouts and onion; cook about 5 minutes. Add apples and raisins; cover with lid and cook another 10 minutes, stirring occasionally; place in mixing bowl. Add salt, vinegar and honey, stir gently. Heat remaining oil in pan. Add pork, sauté turning occasionally with tongs until nearly done. Return mixture to pan with pork. Cook an additional 1-2 minutes.

Complete this Plate: Serve with 8 oz non-fat milk and rustic whole grain bread.

Serves: 4
Fruits & Veggies per Serving
2.25 Cups
Nutrition Information per Serving:
Calories: 350
Total Fat: 13g
Saturated Fat: 3g
% of Calories from Fat: 33%
% Calories from Sat Fat: 8%
Protein: 27g
Carbohydrates: 34g
Cholesterol: 70mg
Dietary Fiber: 7g
Sodium: 370mg
Each serving provides: An excellent source of protein, fiber, vitamin C, thiamin, riboflavin, niacin, vitamin B6, potassium and phosphorus, and a good source of vitamin A, folate, pantothenic acid, iron, magnesium and zinc.
*Retail prices, Boulder, Colorado, and online, Spring 2015