Make Half Your Plate Fruits & Veggies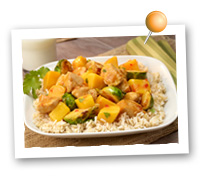 Thai inspired sauté featuring fresh mango and Brussels sprouts with chicken and spicy mango sauce.
Recipe Cost for 4 People: $13.40 ($3.35/serving)*
Preparation Time: 50-60 minutes, including rice cook time
1 cup brown rice
2 cups Del Monte® diced mangoes
3 cloves garlic, peeled and minced
2 Tbsp rice vinegar
1 Tbsp lime juice
2 tsp Thai chili garlic sauce
1 Tbsp soy sauce, less sodium
2 Tbsp peanut oil
12 ounces boneless, skinless chicken breast, cut into 1" cubes
½ pound Brussels sprouts, trimmed and halved
Fresh cilantro for garnish
Cook rice according to package directions. To make the spicy mango sauce, place half the diced mangoes, half the minced garlic, rice vinegar, lime juice, Thai chili garlic sauce and soy sauce in a food processor or blender, mix until just smooth. Cut Brussels sprout in half vertically. Heat olive in a large skillet; add garlic and sauté until golden. Add chicken, cook 3-4 minutes, tossing occasionally. Add Brussels sprouts and sauté another additional 5 minutes. Add remaining mango and cook an additional 3 minutes; stir in mango sauce, cover with lid and cook for 2 more minutes. Remove from heat, serve over rice and garnish with cilantro.

Complete this Plate: Serve with glass of nonfat milk.

Serves: 4
Fruits & Veggies per Serving
1.5 Cups

Nutrition Info
Calories: 510
Total Fat: 12g
Saturated Fat: 2.5g
% of Calories from Fat: 25%
% Calories from Sat Fat: 5%
Protein: 34g
Carbohydrates: 68g
Cholesterol: 70mg
Dietary Fiber: 8g
Sodium: 430mg
An excellent source of protein, fiber, vitamin A, vitamin C, thiamin, niacin, vitamin B6, folate, potassium, phosphorus, magnesium and copper, and a good source of vitamin E, riboflavin, iron and zinc.
*Retail prices, Boulder, Colorado, and online, Winter 2017.