Make Half Your Plate Fruits & Veggies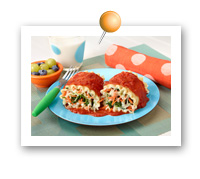 Lasagna noodles layered with spinach, carrots, low-fat ricotta, and mozzarella rolled up and topped with tomato sauce make a fun variation of cannelloni. Kids will love to help roll up the noodles. Research shows 1) fun recipe names engage kids to eat more fruits and vegetables, and 2) involving children in food preparation increases consumption of fruits and vegetables.
Recipe Cost for 4 People: $8.22 ($2.05/serving)*
Preparation Time: 1 hour, 15 minutes
Vinaigrette
½ Tbsp olive oil
1 medium onion, chopped
1 garlic clove, minced
1 28-ounce can tomato purée, no salt added
1 Tbsp low-sodium Italian medley seasoning
8 lasagna noodles (enriched or whole grain)
2 cups grated carrots
2 cups frozen chopped spinach, thawed and drained
¾ cup light ricotta cheese
¾ cup shredded part-skim mozzarella cheese
Pre-heat oven to 375°F. In a sauce pan, heat olive oil. Add onion and garlic, sauté 3-4 minutes. Add tomato sauce and seasoning. Simmer sauce while preparing remaining ingredients. Cook pasta according to package directions, drain, rinse and let cool. To assemble rolly cannelloni, lay out three to four noodles on a cookie sheet. Spread each noodle with 1 ½ Tbsp ricotta cheese, then sprinkle with 1 ½ Tbsp mozzarella, ¼ cup each of carrots and spinach. Roll up each noodle and place in baking dish with rolled end tucked on the bottom. Repeat until all filling ingredients are used. Pour sauce over rolled pasta. Cover with lid or aluminum foil. Bake 30 minutes.

Complete this Healthy Plate: Serve with nonfat milk, and ½ cup mixed grapes and blueberries.
Serves: 4
Fruits & Veggies per Serving
2.5 Cups
Nutrition Info
Calories: 460
Total Fat: 10g
Saturated Fat: 4g
% of Calories from Fat: 20%
% Calories from Sat Fat: 8%
Protein: 26g
Carbohydrates: 74g
Cholesterol: 20mg
Dietary Fiber: 10g
Sodium: 360mg
Each serving provides: An excellent source of protein, fiber, vitamin A, vitamin C, vitamin E, thiamin, riboflavin, niacin, vitamin B6, folate, potassium, calcium, iron, phosphorus, magnesium and copper, and a good source of pantothenic acid and zinc.
*Retail prices, Boulder, Colorado, and online, Spring 2015.