Make Half Your Plate Fruits & Veggies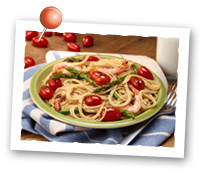 Fresh grape tomatoes and thin asparagus, and shrimp roasted with garlic slices and olive oil, finished with white wine and served over whole-grain angel hair pasta.
Recipe Cost for 4 People: $20.46 ($5.12/serving)*
Preparation Time: 45 minutes
2 cups Del Monte Fresh grape tomatoes
1 pound fresh asparagus, thin stalks, with ends trimmed
4 cloves garlic, peeled and thinly sliced
2 Tbsp olive oil
⅛ tsp salt
⅛ tsp black pepper
12 ounces medium raw shrimp, peeled
¼ cup dry white wine
4 ounces whole-grain angel hair pasta
Preheat oven to 400° F. Place all ingredients except the shrimp, wine and pasta on a large baking sheet. Gently mix and spread out on the baking sheet. Roast about 20 minutes. While vegetables are roasting, cook pasta according to package directions. Remove vegetable pan from the oven, add shrimp and white wine and gently mix. Return pan to the oven and roast another 5-8 minutes. Serve roasted vegetables and shrimp over cooked pasta.

Complete this Plate: Serve with glass of nonfat milk.

Serves: 4
Fruits & Veggies per Serving
1.25 Cups

Nutrition Info
Calories: 280
Total Fat: 9g
Saturated Fat:1g
% of Calories from Fat: 28%
% Calories from Sat Fat: 4%
Protein: 18g
Carbohydrates: 30g
Cholesterol: 105mg
Dietary Fiber: 6g
Sodium: 570mg
An excellent source of protein, fiber, vitamin A, vitamin C, folate, iron, phosphorus and copper, and a good source of vitamin E, thiamin, riboflavin, niacin, vitamin B6, vitamin B12, potassium, magnesium and zinc.
*Retail prices, Boulder, Colorado, and online, Winter 2017.