Make Half Your Plate Fruits & Veggies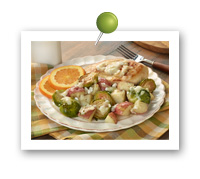 A versatile fall baked dish, our tasty version features potatoes and Brussels sprouts, but other fall vegetables, such as parsnips, carrots and cabbage could be substituted.
Recipe Cost for 4 People: $11.23 ($2.81/serving)*
Preparation Time: 1 hour
¾ lb Brussels sprouts, fresh or frozen, halved vertically
4 small red potatoes, cut into chunks
½ cup chopped onion
2 cloves garlic, minced
2 T olive oil
¼ tsp salt
1/8 tsp pepper
½ cup non-fat ricotta or cottage cheese
¼ cup shredded part-skim mozzarella cheese
2 T grated Parmesan cheese
2 T nonfat milk
1 lb boneless chicken breast (four portions)
Preheat oven to 325°F. In a 2 qt baking dish coated w cooking spray, toss Brussels sprouts, potatoes, onion and garlic w 1 T olive oil, salt and pepper. In a small bowl, mix cheese with milk. Coat chicken breasts with remaining olive oil. Nest among vegetables in baking dish. Top with cheese mix. Cover with foil and bake for 40-45 minutes or until chicken is done.

Complete this Healthy Plate: Serve with 8 oz non-fat milk and orange slices.
Serves: 4
Fruits & Veggies per Serving
2.25 Cups
Nutrition Info
Calories: 400
Total Fat: 12g
Saturated Fat: 3g
% of Calories from Fat: 27%
% Calories from Sat Fat: 7%
Protein: 35g
Carbohydrates: 40g
Cholesterol: 75mg
Dietary Fiber: 6g
Sodium: 370mg
Each serving provides: An excellent source of fiber, protein, vitamin C, thiamin, niacin, vitamin B6, folate, potassium, calcium, iron, phosphorus and magnesium, and a good source of vitamin A, riboflavin, pantothenic acid, iron, zinc and copper.
*Retail prices, Boulder, Colorado, and online, Summer 2014.