Make Half Your Plate Fruits & Veggies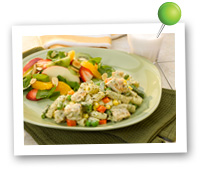 Adding cooked fresh or frozen vegetables to a favorite frozen entrée is an easy way to add color and nutrition to an already tasty dish. Try adding your family's favorite vegetable, such as broccoli, tomatoes, or bell peppers. Served with a fresh spinach salad that uses raspberry vinegar to give the light, basil vinaigrette dressing a bright note, this meal is perfect for a family dinner.
Preparation Time: 20 minutes
Serves: 5
Pasta
1 package (25 oz) STOUFFER'S® Rigatoni with Chicken & Pesto
1 16 oz package of frozen mixed vegetables
Salad
¼ cup raspberry vinegar
2 tbsp extra virgin olive oil
1 tsp granulated sugar
¼ tsp dried basil, crushed
⅛ tsp salt
6 cups fresh spinach, washed, dried, and coarsely chopped
1 small apple, unpeeled and thinly sliced
2 kiwifruit, peeled and thinly sliced
2 small oranges, peeled and sectioned
8 fresh strawberries, sliced
2 tbsp sliced almonds, toasted
Cook the STOUFFER'S® Rigatoni with Chicken and Pesto according to package directions. For the mixed vegetables, cook according to package directions for stovetop. Meanwhile, combine vinegar, oil, sugar, basil, and salt in small bowl; whisk until blended. Combine spinach, apple, kiwifruit, oranges, and strawberries in large bowl. Add dressing to salad; toss well to coat. Sprinkle salad with nuts. Once the Rigatoni with Chicken and Pesto is done, combine in large bowl. Serve immediately.

Complete this Plate: Serve with an 8 oz glass of non-fat milk.

Tips for Fast, Nutritious Meals
For many families, dinner can be one of the busiest times of day. By pairing frozen prepared entrées that offer diverse flavors, sizes, and cooking methods with fruits and vegetables, families can create fast healthy meals that fit into any lifestyle.
To save time, use canned or frozen veggies in preparing a dish or a meal.
To make a quick spinach salad, use pre-packaged fresh spinach or salad kits that are ready to use.
Look for frozen meals with whole grains, < 500 total calories, < 600 mg of sodium, and < 30% of calories from fat per serving, then add more fruits and veggies as side dishes or toppings and voila, a fast, nutritious meal!
Fruits & Veggies per Serving
2 Cups