Make Half Your Plate Fruits & Veggies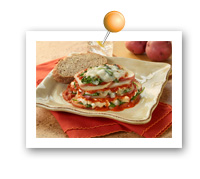 A unique and flavorful meat-free lasagna layered with sliced potatoes instead of noodles.
Recipe Cost for 4 People: $10.00 ($2.50/serving)*
Preparation Time: 1 hour, 15 mins, including bake time
7 small red Colorado potatoes
½ cup chopped onion
2 cloves garlic, minced
1 T olive oil
3 oz fresh baby spinach (about 3½ cups)
¾ cup non-fat ricotta or cottage cheese
¾ cup shredded part-skim mozzarella cheese
2 T grated Parmesan cheese
1 egg, beaten
1 ½ cups no-salt-added or sodium-reduced pasta sauce (about ½ of 24-oz. jar)
Preheat oven to 375°F. Bring water to a boil in large sauce pan. Thinly slice potatoes, add to boiling water and cook 5 minutes; drain and rinse with cool water; drain again. Heat olive oil in medium skillet, add onions and garlic; sauté about 2-3 minutes until just starting to brown. Add spinach, sauté 1 more minute. Remove from heat and drain off liquid. In a medium bowl, mix cheese with egg until well blended. Add layers to 8" square baking dish as follows, using about ¼ of each: pasta sauce, potato slices, sautéed spinach mixture and cheese mixture. Repeat layers until all ingredients are used. Cover with foil. Bake about 35-40 minutes. Remove foil and bake additional 10 minutes until cheese is melted.

Complete this Healthy Plate: Serve with sparkling water, lemon slice and slice rustic whole grain bread.
Serves: 4
Fruits & Veggies per Serving
2.5 Cups
Nutrition Info
Calories: 440
Total Fat: 12g
Saturated Fat: 4g
% of Calories from Fat: 25%
% Calories from Sat Fat: 8%
Protein: 19g
Carbohydrates: 63g
Cholesterol: 70mg
Dietary Fiber: 8g
Sodium: 360mg
Each serving provides: An excellent source of fiber, protein, vitamin A, vitamin C, vitamin B6, potassium calcium, iron, phosphorus and copper, and a good source of thiamin, riboflavin, niacin, folate, vitamin B12, pantothenic acid, magnesium, zinc and iodine.
*Retail prices, Boulder, Colorado, and online, Summer 2014.