Make Half Your Plate Fruits & Veggies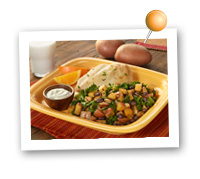 A lively Southwestern skillet dish featuring diced potatoes, kale and black beans, spiced up with garlic, chili and cayenne, and topped with a dollop of non-fat Greek yogurt.
Recipe Cost for 4 People: $7.78 ($1.95/serving)*
Preparation Time: 30 minutes
4 Green Giant Klondike Rose potatoes
1 bunch Kale (curly, Italian or other variety), approx. 6 oz.
2 T olive oil
1 garlic clove, minced
¼ cup chopped onion
1 tsp chili powder
¼ tsp salt
1/8 tsp cayenne pepper
1 15-oz can no-salt-added black beans, drained and rinsed
½ cup plain non-fat Greek yogurt
Dice potatoes into ¼" pieces. Chop kale. Heat oil in large skillet over medium heat. Add garlic and onions; cook 2-3 minutes until just starting to brown. Add diced potatoes, chili, salt and pepper to skillet, cover with lid and cook 8-10 minutes, stirring occasionally. Add chopped kale and black beans. Cook about 3-5 more minutes, stirring gently. Serve with Greek yogurt.

NOTE: For a vegetarian plate, increase the black beans in the recipe and omit the chicken breast.

Complete this Healthy Plate: Serve with 8 oz non-fat milk, chicken breast and orange wedges.
Serves: 4
Fruits & Veggies per Serving
1.75 Cups
Nutrition Info
Calories: 290
Total Fat: 7g
Saturated Fat: 1g
% of Calories from Fat: 22%
% Calories from Sat Fat: 3%
Protein: 13g
Carbohydrates: 47g
Cholesterol: 0mg
Dietary Fiber: 8g
Sodium: 200mg
Each serving provides: An excellent source of protein, fiber, vitamin A, vitamin C, potassium and copper, and a good source of calcium, iron, phosphorus and magnesium.
*Retail prices, Boulder, Colorado, and online, Summer 2014.