Make Half Your Plate Fruits & Veggies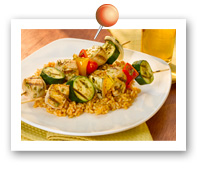 Grill up some wholesome fun with this flavorful recipe for Pesto Chicken & Vegetable Kebabs over Brown Rice and Pumpkin. Marinated in a robust pesto sauce, these skewers of tender chicken pieces and seasoned vegetables make a colorful and appetizing entrée. Served on a bed of nutritious, deliciously creamy, risotto-like pumpkin brown rice and paired with a glass of juice, this meal is sure to please the whole family.
Preparation Time: 30 minutes, excluding marinating time for chicken
Serves: 4
Pesto Chicken Vegetable Kebabs
½ cup BUITONI Refrigerated All Natural Pesto with Basil
Grated lemon peel from 1 lemon
Juice from 1 lemon
1 pound boneless, skinless chicken breasts, cut into 1-inch pieces
1 pound assorted vegetables (cherry tomatoes, bell pepper cubes, zucchini wedges, and/or eggplant cubes)
8 10-inch skewers
Brown Rice & Pumpkin
1 cup uncooked brown rice
½ cup LIBBY'S® 100% Pure Pumpkin
Combine pesto, lemon peel, and lemon juice in a large, resealable plastic bag. Add chicken and vegetables; seal. Marinate in refrigerator for 1 hour. While chicken and vegetable mix is marinating, prepare brown rice according to package directions, using water or low-sodium broth. Add pumpkin to the cooking water. Thread skewers, alternating chicken and vegetables; discard remaining marinade. Preheat grill or broiler. (Place kebabs on a baking sheet if broiling.) Grill or broil for 5 minutes; turn over. Grill or broil for an additional 3 minutes or until vegetables are tender and chicken is cooked through. Season with ground pepper, if desired.

Complete this Plate: Serve with an 8 oz glass of Juicy Juice 100% Apple Juice

Tip for Healthy Meals
Add pumpkin to everyday favorites! Not only do you add the delicious taste of pumpkin, but fiber and vitamin A too. Adding pumpkin also helps to reduce the fat and sodium content in your recipes. Try canned pumpkin in smoothies, soups, and dips!
Tips about Juice
Kids need fruit every day. Most of those fruit servings should come from whole fruits, but Juicy Juice can help too. Kids love the taste and you'll love the nutrition it provides! A 4 fl oz serving of Juicy Juice 100% Juice = ½ cup of fruit.
There are no added sugars in 100% juice—just the natural sugars found in whole fruit.
According to the 2010 Dietary Guidelines, two nutrient-dense beverages stand out as providing "a substantial amount of nutrients along with the calories they contain:" fat-free/low-fat milk and 100% fruit juice.
Research shows that drinking 100% juice is associated with a more nutritious diet overall, including reduced intake of total dietary fat, saturated fat, and added sugars.
Fruits & Veggies per Serving
1¼ Cups