Make Half Your Plate Fruits & Veggies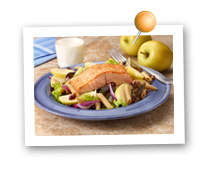 This quick and family-friendly, yet sophisticated dish features pan-seared salmon served over a bed of Golden Delicious apple slices, dried cranberries, greens and whole grain pasta.
Recipe Cost for 4 People: $17.47 ($4.37/serving)*
Preparation Time: 30 minutes
Dressing

2 Tbsp cider vinegar
1 Tbsp olive oil
¼ cup apple juice
¼ tsp salt
⅛ tsp pepper

1 cup whole wheat penne pasta, dry
4 4-oz salmon filets
1 Tbsp olive oil
¼ cup slivered red onion
¼ cup dried cranberries
6 cups field greens
2 Golden Delicious apples, thinly sliced

Whisk dressing ingredients in a small bowl; set aside. Cook pasta according to package directions; let cool. Coat salmon with 1 Tbsp olive oil. Place salmon in a non-stick skillet, skin-side down. Cook over medium-high heat 3 minutes, loosening the salmon from the pan. Turn and cook salmon 4-5 more minutes. Remove from pan. In a large bowl, toss pasta, onions, cranberries and field greens.

To serve: Divide tossed salad on four plates. Remove skin from salmon and place on salad bed. Arrange apple slices around salmon. Drizzle each salad with dressing.

Complete this Plate: Serve with 8 oz non-fat milk.

Serves: 4
Fruits & Veggies per Serving
1.5 Cups
Nutrition Information per Serving:
Calories: 430
Total Fat: 14g
Saturated Fat: 2.5g
% of Calories from Fat: 29%
% Calories from Sat Fat: 5%
Protein: 29g
Carbohydrates: 46g
Cholesterol: 60mg
Dietary Fiber: 7g
Sodium: 300mg
Each serving provides: An excellent source of protein, fiber, vitamin A, vitamin C, vitamin D, niacin, vitamin B6, folate, vitamin B 12, phosphorus and magnesium, and a good source of vitamin E, thiamin, riboflavin, pantothenic acid, potassium and iron.
*Retail prices, Boulder, Colorado, and online, Spring 2015