Make Half Your Plate Fruits & Veggies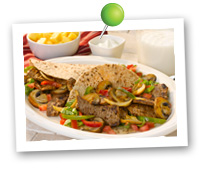 Bring another serving of vegetables and important nutrients to your plate with this veggie-filled twist on classic fajitas. We've upped the vegetable ante by sautéing savory mushrooms and mixing them with steak for an umami-rich, flavorful punch. And we've sped up the preparation time for this Tex-Mex favorite, forgoing marinating the steak by using a tender cut.
Recipe Cost for 4 People: $15.48 ($3.87/serving)*
Preparation Time: 45 minutes

12 oz sirloin or other boneless steak, about ¾-inch thick
3 cups sliced crimini mushrooms
1 tbsp no-salt fiesta lime seasoning (like Mrs. Dash), divided
1 tbsp olive oil
1 medium green bell pepper, sliced into strips
1 medium red bell pepper, sliced into strips
1 medium yellow or white onion, sliced into strips
8 whole wheat tortillas, 6-inch
1 medium tomato, diced
2 cups shredded iceberg lettuce
4 tbsp non-fat sour cream

Slice beef across the grain into ¼-inch strips. Place in a medium bowl with ½ tbsp fiesta lime seasoning; toss to coat. Place mushrooms, peppers, and
onion and remaining fiesta lime seasoning in a large bowl; toss to coat. Heat oil in large, non-stick skillet. Add beef strips; cook about 3-4 minutes. Remove from skillet. Place coated vegetables in skillet and sauté until vegetables are slightly tender, about 5-8 minutes. Add beef back to skillet and sauté mixture 1-2 more minutes. Assemble fajitas by dividing beef-vegetable mixture evenly on each tortilla, top with remaining ingredients and roll up.

Complete this Healthy Plate: Serve with 8 oz (1 cup) non-fat milk and side of mango chunks (about ¾ cup).
Serves: 4
Fruits & Veggies per Serving
1.5 Cups
Nutrition Information per Serving:
Calories: 430
Total Fat: 16g
Saturated Fat: 5g
% of Calories from Fat: 33%
% Calories from Sat Fat: 10%
Protein: 27g
Carbohydrates: 46g
Cholesterol: 60mg
Dietary Fiber: 7g
Sodium: 590mg
Each serving provides: An excellent source of fiber, protein, vitamin C, niacin, riboflavin, vitamin B6, potassium, phosphorus, and zinc, and a good source of vitamin A, thiamin, folate, vitamin B12, pantothenic acid, iron, and copper.
*Retail prices, Boulder, Colorado, and online Fall 2011