Make Half Your Plate Fruits & Veggies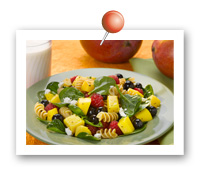 Mangos, berries, spinach, and feta cheese make for a colorful twist on pasta salad, with the perfect balance of sweet and tangy.
Recipe Cost for 4 People: $14.25 ($3.56/serving)*
Preparation Time: 30 minutes

Vinaigrette

3 tbsp extra virgin olive oil
2 tbsp raspberry vinegar
1 tsp sugar
1 tsp poppy seeds
¼ tsp salt

Salad

1 cup (4 oz) whole-wheat rotini pasta, uncooked
1 ripe mango
1 cup raspberries
1 cup blueberries
2 cups fresh baby spinach
½ cup reduced-fat feta cheese

In a small bowl, whisk vinaigrette ingredients; set aside. Boil water and cook rotini according to package instructions. Drain cooked rotini and rinse in cool water. While rotini is cooking, cut mango into chunks, removing peel and pit. Place salad ingredients in a large bowl; drizzle with vinaigrette. Toss gently.

Complete this Healthy Plate: Serve with an 8 oz glass of non-fat milk.
Serves: 4
Fruits & Veggies per Serving
1.25 Cup
Nutrition Information per Serving:
Calories: 430
Total Fat: 15g
Saturated Fat: 3g
% of Calories from Fat: 31%
% Calories from Sat Fat: 6%
Protein: 12g
Carbohydrates: 65g
Cholesterol: 5mg
Dietary Fiber: 14g
Sodium: 400mg
MyPlate Contributions
Vegetables
Fruit
Grain
Protein
Dairy
0.25 cup
1 cup
1 oz
0 oz
0.25 cup
Each serving provides: An excellent source of protein, fiber, vitamin A, vitamin C, and folate, and a good source of thiamin, niacin, riboflavin, vitamin B6, calcium, and copper.
*Retail prices, Boulder, Colorado, and online, September 2012-March 2013